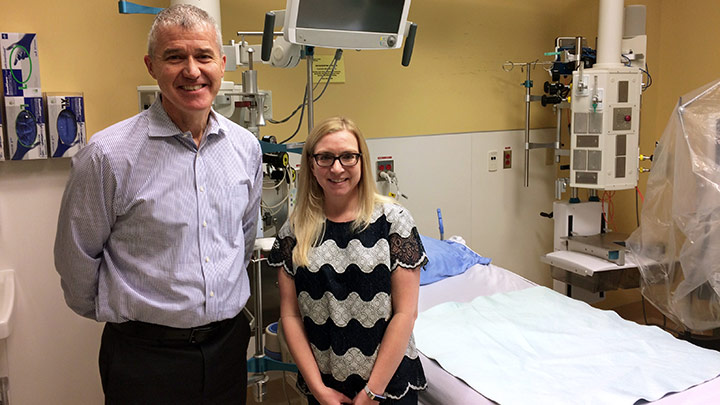 ICUs across Alberta tackle its root causes to improve patient outcomes
Story & Photo by Greg Harris
After spending five weeks in intensive care — three of them in an induced coma — Nadine Foster knows all too well the debilitating consequences of delirium.
"After I was discharged I spent six months more or less bedridden, which was the longest six months of my life," she says. "My previous sharp mental focus was gone and my attention span was very limited. I wasn't able to read or watch TV."
"My memory was also impacted. I would forget things that typically I wouldn't, ranging from something minor, like an item to pick up at the grocery store, to more important things, like people in my life."
It's common for patients like Foster to experience difficulty with their thinking processes following a stay in an intensive care unit. Impaired cognitive function is one of the lingering consequences of ICU-related delirium, which can occur because of the type of medications used, the time spent getting breathing assistance from a ventilator, disturbed sleep patterns and being immobilized.
"We used to think delirium was just part of being sick," says Dr. Chip Doig, Head of the Department of Critical Care Medicine for the Calgary Zone of Alberta Health Services, and co-chair of the Provincial ICU Delirium Initiative of the Critical Care Strategic Clinical Network.
"We know now, however, that ICU delirium is actually a sign of acute brain dysfunction. What the Provincial ICU Delirium Initiative is doing — in all 21 of Alberta's adult ICUs — is finding ways to minimize the causes of that dysfunction to improve patient outcomes."
On March 14, which has been designated World Delirium Awareness Day, ICU staff across the province will make pledges as part of the #IcanPreventDelirium challenge. ICU sites will also nominate and recognize Delirium Heroes — those staff members who show exceptional dedication to fighting and preventing delirium.
In the Alberta Legislature, World Delirium Awareness Day was officially recognized.
Since late 2016, the Provincial ICU Delirium Initiative has made significant strides. For example:
The proportion of patient days where patients were delirious has decreased from 35 per cent to 27 per cent, meaning patients have fewer days in the ICU and fewer days in hospital.
The length of time patients with delirium were ventilated decreased by 0.53 days, thus reducing a contributing risk factor for delirium.
Assessments for sedation and agitation increased by 20 per cent, important for preventing delirium and reducing use of restraints (both physical and pharmaceutical).
"Individual ICUs have looked at their own practices and tailored care pathways for preventing and managing delirium," says Selvi Sinnadurai, Manager of the Critical Care SCN. "Another key component of the Delirium Initiative is that it has established a platform for further research, including epidemiological research."
Improving the prevention, early identification, and management of delirium, depression and frailty in all care settings is a key action in achieving the vision and outcomes described in the Alberta Dementia Strategy and Action Plan.
It's been a long road back for Nadine who, aside from her cognitive challenges, weighed just 85 pounds and couldn't walk when she left hospital. She has no memory of her time in the ICU, but recalls vivid dreams or hallucinations, which are associated with delirium.
Today she's made nearly a full recovery and shares her experiences with healthcare providers as a Patient Advisor for the Critical Care SCN.
She's helping create a delirium resource list for patients and families, and she's also intending to take courses to refresh her Registered Nursing licence so that she can return to the ICU one day — in a professional capacity.
"My goal now is to work with ICU patients, or recovering ICU patients. I understand the patient and family perspective and I think I have something to offer in terms of helping people come back — both physically and cognitively," Foster says.
World Delirium Awareness Day is intended to raise awareness about delirium and to build understanding about its