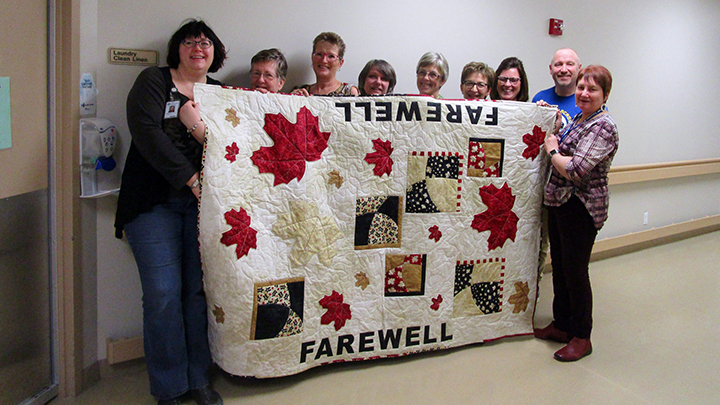 Continuing care centre moved by new Honour Guard program
Story by Diana Rinne
WESTLOCK — A well-made quilt provides not only warmth and comfort, but beautifies its surroundings with an eye-catching design. Westlock Continuing Care Centre now has a very special 'Farewell' quilt which does all of the above to honour the memory of its residents who have passed away.
It's the gift of the Westlock Crazy Quilters, a local group who recently created and donated the quilt — which features the word "Farewell" and the Canadian maple leaf — for the centre's new Honour Guard program.
"It took five ladies four days to make it," says Irene Moulton, coordinator of Volunteer Resources at the centre.
"We do charity work every year and this year we took this as our project," says Maureen Mirus, a member of the Crazy Quilters, who also works at the continuing care centre.
When a resident passes away, the quilt will draped over the body and stretcher of the deceased as they're taken away by the funeral home.
"It's a way to pay tribute to them as they leave the building for the last time," says Sherry Gough, manager of Seniors Health in Westlock.
The first Honour Guard took place in February with a loaner quilt from Jill Henderson Grainger, a manager at the facility. Ten minutes before the deceased was brought down from the second floor, a rendition of Amazing Grace played throughout the centre.
"Staff members lined up beside the elevator on the second floor as the stretcher passed by slowly," says Gough. "Down by the main desk there were 30-40 people lined up… it was very touching."
The Honour Guard has been well received by staff, residents and their families, says Sherry, adding they're very appreciative to the Crazy Quilters for sewing the quilt for the program.