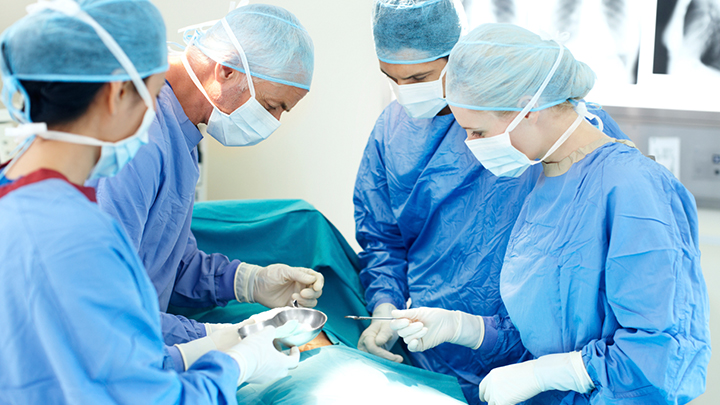 Study shows shorter stays, fewer complications as AHS refines care through quality improvement program
Story by Faye Furdyk
Albertans are spending less time in hospital after surgery, and are experiencing fewer complications, following a pilot project at five Alberta Health Services (AHS) hospitals, a new study reports.
The Institute of Health Economics partnered with the Surgery Strategic Clinical Network (SCN) of AHS to review outcomes after the five hospitals implemented interventions based on the National Surgical Quality Improvement Program (NSQIP) in 2015.
The study, released last month, showed the interventions (based on the sites' NSQIP data) reduced rates of post-surgical infections by more than half, and patients were able to be discharged sooner than normal. Average hospital stays for cystectomy patients, for instance, were reduced from 14 days to eight days. Surgical teams also improved their processes to minimize blood loss, reducing the need to perform blood transfusions.
The study also found that, during the two-year pilot project, every $1 of investment in quality improvement brought $4.30 in return for a net savings of $8.8 million at the five sites.
"I've often said that when you focus on quality, savings will follow — and this study very much affirms that," says AHS President and CEO Dr. Verna Yiu.
The five pilot sites continue to use the NSQIP data to guide where they need to focus quality improvement efforts. AHS is now rolling out NSQIP across 11 additional surgical centres in Alberta.
"AHS performs approximately 288,000 surgical procedures annually in operating rooms across Alberta," says Jill Robert, Senior Provincial Director of the Surgery SCN.
"Surgical teams across the province knew complications could be prevented but they didn't have consistent information to understand what to focus on. Through programs like NSQIP, we can measure specific performance areas, tweak our processes and measure again to see how we've moved the needle on our performance."
NSQIP is a quality improvement program that helps care teams measure and improve care. Each team collects data from a sample of patients from an identified population and reports this sample to NSQIP. NSQIP then compares these results to data collected from 900 participating NSQIP hospitals around the world. Every few months, surgeons and teams receive 'report cards' to understand where they rank, where they excel and where they need to improve their performance in any given area.
"It's been exciting to see how surgical teams have adopted a culture of quality," says Robert.
"They're making informed improvements based on tracked progress and benchmarks with other hospitals and, ultimately, focusing on what really matters to patients."
For more information about the study, visit the National Center for Biotechnology Information at: https://www.ncbi.nlm.nih.gov/pubmed/29465460.