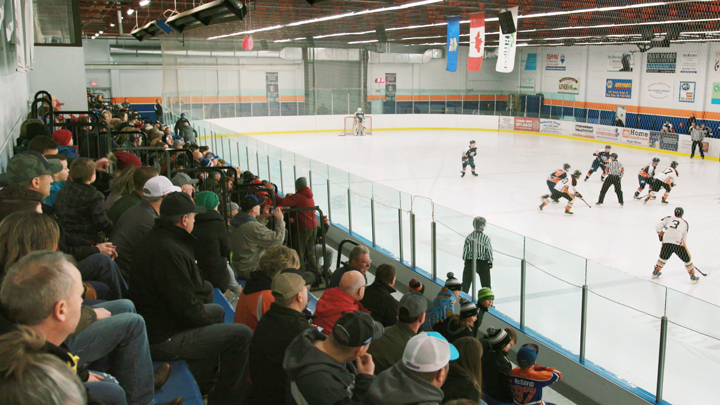 Town a finalist in bid to win $250,000 arena reno, NHL pre-season game
Story by Gregory Kennedy
HIGH RIVER — If being a civic booster were a hockey game, Melissa Pryor would be racing down the ice as high-scoring rink royalty in High River — one of only four Canadian communities still in the running to be crowned Kraft Hockeyville for 2018 — all thanks to her enthusiasm and ability to rally her neighbours.
In fact, this Alberta Health Services employee and dedicated hockey mom is working hard to help her town of 13,584 puck-chasing souls hustle past the other three finalists — Lafleche, Sask., Lucan, Ont., and Huntingdon, Que. — to win the grand prize of $250,000 in upgrades for the local arena well as the thrill of hosting a pre-season National Hockey League game (total value $650,000).
After an online vote, the winning community will be announced live on television by NHL commissioner Gary Bettman during the first intermission of the second game on Hockey Night in Canada this Saturday (March 31).
"We're the only Alberta community — think provincial!" says Pryor.
She's got her fingers crossed for new lighting, a better sound system and a new Zamboni for the Bob Snodgrass Recreation Complex. By virtue of being a finalist, she and her team have already won $25,000 towards these goals.
"With our old sound system, when they holler the kid's name out, it sounds like Peppermint Patty from Charlie Brown," she says, then laughs.
But her associates at AHS take her philanthropic impulses very seriously; last year, she led a fundraiser for an accessibility van — and it's already on order.
"Melissa Pryor is an important member of the Medical Staff Office for Calgary Zone where she supports privileging and access for physicians — but those who work with her see a very committed passion for her home, the Town of High River," says Robert Bunn, Manager of Physician Services for Medical Affairs in Calgary Zone.
"Despite being remarkably active with her son's soccer and hockey teams, she's always engaged in philanthropic activities. Most recently, Melissa told us about her letter to Kraft Hockeyville on Jan. 3 — which was the very first nomination for the town — and she quickly rallied her neighbours into a well-organized campaign."
It was a campaign that snowballed, says Pryor.
"After I sent in my nomination story, I just started talking about it and it led to more engagement from other hockey families and friends in the community," Pryor says. "We set a goal to submit 100 nomination stories about High River's community spirit and passion for hockey. And it's grown and grown and grown from there. We ended up with 153 stories."
A big part of Pryor's motivation is pure genetics.
"My six-year-old son Emmett is in his first year of organized hockey," she says. "You know, he really gravitates to defence. He believes he's the captain of his team — and he believes that it's his responsibility to keep an eye on all of his teammates and keep the puck away from the goalie. It's really cute. He's kinda like a lone wolf."
Kraft Hockeyville has appointed an NHL ambassador to support High River in the competition — Jordan Eberle, a former Edmonton Oiler and currently a right winger for the New York Islanders.
As chairperson of the Hockeyville campaign, Pryor leads a committee of 14 like-minded souls.
"We joked that it was one crazy idea. My friends thought I was absolutely nuts for trying this," she adds. "But it's amazing what's happening. It wasn't just me. Teamwork makes the dream work.
"What's happening in our community right now is remarkable. It's the first time I've seen this community rally since the devastating floods five years ago, which left the arena underwater."
High River, however, has never been a town to feel sorry for itself, and takes pride in its resiliency and heritage.
Beyond its breathtaking foothills scenic beauty, it was home to the late, celebrated Canadian author W.O.

Mitchell (Who Has Seen The Wind). Today, it can also call itself home to the long-running and globally popular CBC television series Heartland — and Pryor's already persuaded show producers to give her Hockeyville campaign a healthy shout-out on their social media this week.
"It's important that we encourage people who love High River, who have a connection here, or who love Alberta, to vote," she says. "I am asking everybody to visit our Facebook page — High River Kraft Hockeyville 2018 — and change your social media profile to vote High River. We have a graphic there; it's very easy for people to do."
In Alberta, voting begins 10 a.m. Friday and ends 6:30 p.m. Saturday.
"Please just dedicate 20 minutes on March 30 and March 31 to vote 100 times," she urges. "The arena is everything to our community."