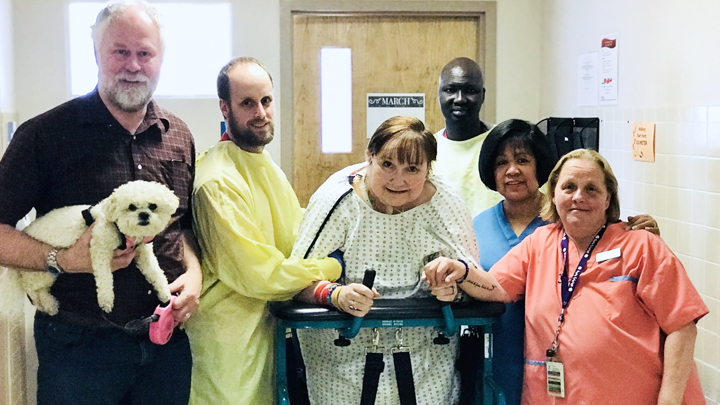 Bedridden for a year-and-a-half, Paulette walks again thanks to her tenacious care team at Foothills Medical Centre
Story by Gregory Kennedy
CALGARY — When Paulette Slade stands tall, and gingerly puts one foot after the other, her emotions well up — because her journey to walk again hasn't been an easy one.
In fact, it's been a long hard slog for the 59-year-old Calgarian, who was bedridden in hospital for a year-and-a-half, and confined to her room for seven months of that.
She's spent much of her life battling lupus, an autoimmune disease in which the body's natural defence system attacks healthy tissues, causes inflammation and can severely damage organs if not kept in check by drug therapy.
Once ranked 19th among Canada's best fencers, Paulette could only watch as the athleticism of her youth was chipped away by years of stubborn, antibiotic-resistant infections — which she fights to this day.
"I've been fighting balance problems for years," she says. "If I stand, I fall. I've had a multitude of really resistant infections. Because I'm immune-suppressed, I catch everything."
What has turned the tide in the fight of her life are some new allies in her corner.
The retired social worker hadn't counted on the stubbornness and tenacity of her healthcare team on medicine unit 32 of Foothills Medical Centre, who simply refused to throw in the towel on getting Paulette vertical again.
"From the health team's perspective," says nurse clinician Lance Schill, "we've never given up on trying to give her the best chance possible to recover and get out of the hospital and get home again. Because that's what Paulette's goal is."
Even her husband Daryl, 64, admits he didn't envy the challenge faced by her therapists and caregivers.
"The problem is that nausea and pain have often prevented her from doing the rehab she should be doing," he says. "But she's the most positive person I've ever met in my life. She's always striving to be better."
Paulette's progress came in fits and starts, with setbacks whenever an infection would flare up.
"We were able to get her up into her reclining chair when she came to us," says Schill. "We've now got her back on her feet again. Sometimes it feels like it's two steps forward, one step back — but we're determined as a team to give her the best chance possible."
"I began with exercises in bed," says Paulette. "It took time for my balance to come back. Then I was slowly, slowly sitting by the side of the bed. And slowly moving my legs. It was a very slow process."
The Allied Health team and its physiotherapist Brennan Bonesky have also played a key role in Paulette's recovery, in tandem with her nursing care.
Judith Mallaire, one of the healthcare aides who tends to Paulette, has forged a special bond with her, and has asked managers to change work assignments when possible so she can do more for Paulette.
Mallaire was the first to take the initiative to use a lift to get Paulette from bed to recliner so she could enjoy some fresh air outside the unit, as well as to bathe her. "We do care for her. We do love her," Mallaire says.
And Marilyn Tkachuk, a service aide on Paulette's unit, has seen their relationship blossom into a true friendship.
"Paulette is a fighter. She's come a long way since the first time I met her. At that time, she wasn't getting out of bed. She was weak. She wasn't doing anything," says Tkachuk.
"I immediately knew we could really connect. We talked all the time. She told me things, personal things. And that's how we became close friends. She and I have pictures of us together. Being with her, talking with her, crying with her, and everything else, laughing with her, it's great."
To buck up Paulette's spirits during her lengthy stay in hospital, a very special family member often drops by — her dog Saffron, a nine-year-old Bichon Frise / Shih Tzu mix, who's become a fluffy fur-baby friend to the entire unit.
"They've graciously allowed her to come twice a day to visit me," says Paulette.
With Saffron at her side, all of her baby steps have added up to major strides.
"I'm walking five times a week, and I manage to walk about five metres, sometimes twice in a given day."
Adds Schill: "That's huge progress to have made it up to five metres. We're really pleased for her. And we're very proud of how hard she's working. I think recurrent infections are probably the one thing that's holding her back from going home. For the time being, she needs IV antibiotics."
As medical specialists and her healthcare team work towards that ultimate goal, Paulette can't help but celebrate how good it feels to be walking again.
"Oh … it's incredible. It's beyond words," she says, her voice brimming with joy. "It's exhilarating. It just feels so freeing to move."
And she's quick to give credit where she feels it's due.
"My team is fantastic. They're caring. They're loving. They're supportive. They're here when I need them. Everybody has been just incredible. That's what's helped me get through this."