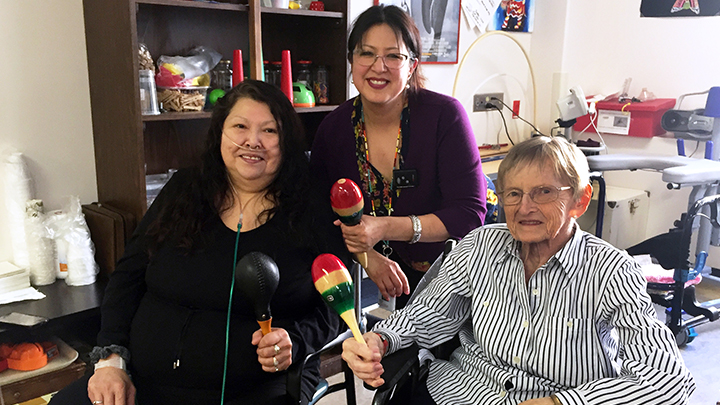 Music therapy motivates patients to laugh, sing and dance
Story & photo by Shelly Willsey
EDMONTON — Patients at the Royal Alexandra Hospital are getting into the groove with a music therapy group, Movers and Shakers.
The bi-weekly, hour-long program sees music therapist Sherryl Sewepagaham and recreation therapist Melanie Grell encourage patients to sing along to a Johnny Cash tune, add percussion to My Blue Heaven with various shakers and other instruments, and tap their feet and sway to the melody in whatever way they can.
"This is a great collaboration of therapies focusing on common goals for the participating patients," says Sewepagaham. "It involves guitar, piano and recorded songs with movement, instruments and tons of fun."
The program, launched on Feb. 13, aims to inspire patients to take part in a welcoming environment that enables socialization, physical movement and cognitive stimulation.
"This program and its music makes me happy. I'm in my room most of the time, and this is a reason to socialize," says patient Annie Dequian. "It's fun — like a music class in elementary school."
Each week, Sewepagaham and Grell begin by greeting each participant by name in a song, then announcing the theme. In between the singing and dancing, patients share thoughts, memories and laughter.
"Even when a patient has limited mobility, they can still dance in some way," adds Grell. "They can sway, swing, tap, stomp or twist. The music helps them to move in ways they might not ordinarily."
Organizers choose music that's familiar to patients, songs that spur conversation when they ask patients about the memories, movies or the singing stars they associate with the tunes.
"I'm not a dancer, and I'm not a singer — but I'll definitely be back," says patient Georgia Henderson. "I enjoy being with the others, and the good music."