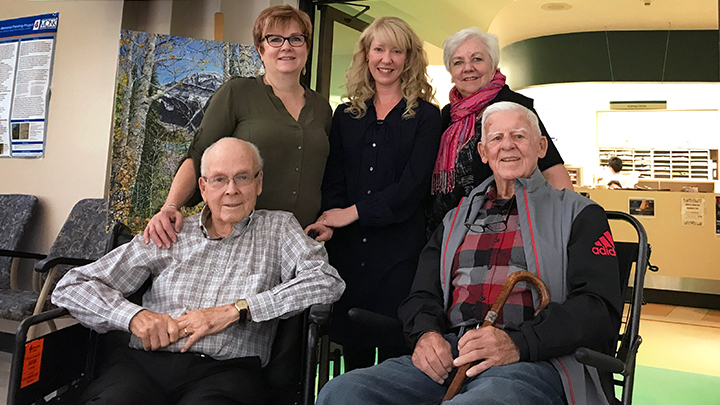 Health Quality Council of Alberta honours inner-city, community paramedic and kidney-care initiatives
Story by Gregory Kennedy | Photo by Sharman Hnatiuk
Positive changes at Alberta Health Services (AHS) in inner-city healthcare, community paramedic services and kidney care have been recognized with three provincial Patient Experience Awards.
"This year's Patient Experience Awards once again highlight the focused and important work underway in the province to consistently consider the patient, resident, client and family voice and make a positive impact on patient experience," says Andrew Neuner, CEO of the Health Quality Council of Alberta (HQCA), which presents the honours.
"Applications spanned all corners of the province and came from a wide variety of care settings. They reflected the diverse healthcare needs of Albertans, and many initiatives specifically considered how to improve the patient, resident, client and family experience for vulnerable populations."
The three AHS initiatives singled out for their excellence include: the Alberta Conservative Kidney Management Clinical Pathway and Alberta Kidney Council; the City Centre Team Mobile Paramedic Program, part of the Calgary Zone Community Paramedic Program, Emergency Medical Services; and the Inner City Health and Wellness Program, based at the Royal Alexandra Hospital in Edmonton.
"Each of these three teams exemplifies what it means to work with other organizations or teams to provide a better product to our patients," says Lynette Lutes, Senior Program Officer, Quality & Healthcare Improvement for AHS.
Lutes says she also believes that each of these winning projects looked at unique ways to bring services to where people live — sometimes on the street — and in novel ways.
"It's clear to me that looking at things from a different perspective has paid off in spades for these teams and the people they serve," says Lutes. "Alberta Health Services is proud to be recognized for this amazing work to better serve Albertans."
A fourth non-AHS recipient, The Brenda Strafford Foundation, was recognized for its End of Life Framework and Program, which has improved palliative care service delivery for long term care and supportive living residents.
About the Award Recipients:
Alberta Conservative Kidney Management (CKM) Clinical Pathway / Alberta Kidney Council, AHS
"We continually strive to provide patients with treatment options and to fully engage them in decisions regarding their healthcare. The Conservative Kidney Management (CKM) clinical pathway provides patients with an additional treatment option," says Sandi Vanderzee, Director, Northern Alberta Renal Program.
"Patients choosing conservative care receive close monitoring and followup by the healthcare team. There have been significant benefits to many of our patients and their families. I am very proud of the work our teams have done in the development and implementation of the CKM clinical pathway."
The interactive, web-based CKM clinical pathway was designed in collaboration with patients with Stage 5 chronic kidney disease (CKD), families, and multidisciplinary healthcare providers to develop personalized, integrated care plans.
The CKM pathway promotes shared decision-making between patient and provider by including a Patient Decision Aid (PDA) designed to help patients decide if CKM or dialysis is right for them. This pathway also includes patient education materials to promote self-management as well as supportive care tools, such as a crisis action plan.
Results from project evaluation show patients feel the CKM pathway is improving access to information and healthcare resources and empowering them to make informed decisions about their care. As well, by using this approach to care planning, 74 per cent of patients reported an absence of severe CKD symptoms (up from 54 per cent pre-implementation).
City Centre Team Mobile Paramedic Program / Calgary Zone Community Paramedic Program, AHS Emergency Medical Services (EMS)
"We're incredibly proud of this team and the entire community paramedic program," says Darren Sandbeck, AHS EMS Chief Paramedic. "The ability to provide mobile medicine to our most vulnerable people has proven to be an effective way to support individuals who would otherwise go without needed healthcare, because of the barriers associated with homelessness, mental health and substance abuse.
"The program strives to improve access to needed opioid dependency treatment and medical management of symptoms associated with withdrawal and mental health crisis. This in turn improves healthcare system capacity and reduces pressure on healthcare resources by providing targeted and more appropriate care."
The Calgary Zone Community Paramedic Program (CPP) created its City Centre Team (CCT) mobile paramedic program to provide better access to health services for people living with homelessness. This program co-ordinates a specially trained, mobile paramedic service with existing healthcare resources to deliver timely, individualized care to people living with homelessness where they are, for example, in shelter, harm education sites, encampments, or curbside.
The CPP CCT treats homelessness itself as a complex medical condition. The program works to mitigate barriers as well as the social determinants of health that prevent this vulnerable population from benefiting from traditional care models. Some of these barriers include previous traumatizing encounters with the healthcare system, insecure housing, addiction, and mental health issues. In addition to providing urgent and primary healthcare, the program also provides followup care and a connection to ongoing care and other supportive services.
Evaluation of this program from patient, physician, and staff interviews indicates that meeting people living with homelessness at their present locations improved patients' comfort and increased their willingness to receive care.
Inner City Health and Wellness Program / Royal Alexandra Hospital, Edmonton
"The Inner City Health and Wellness Program is thrilled to win this award," says Dr. Kathryn Dong, who leads the Addiction Recovery and Community Health (ARCH) team. "We are very grateful for the many in-hospital and community partners who have worked with us to expand the services we offer and successfully transition the care we provide to our patients who use substances."
The mission of the Inner City Health and Wellness Program is to provide evidence-based, patient and community-centred, holistic care for patients with substance use disorders and/or those dealing with social inequity. This program is well-informed by patients, community partners and a community advisory group, which consists of community members with lived experience.
The program includes three components: a clinical consult team (the ARCH team); a research program focused on the development and refinement of leading practices for the care of patients with substance use disorders in acute care settings; and an education program that translates evidence and leading practice into care at the bedside.
The ARCH team provides a range of services to admitted or emergency department patients at the Royal Alexandra Hospital, including recommendations for the management of substance use disorders, social stabilization, health promotion activities, and a linkage to community-based and primary care.
And this program has had a positive impact, says one of its users.
"They treated me like more than just a number," says a patient. "They treated me like I was a member of their family, a little brother or somebody they actually cared about, which was big-time. ARCH is the first organization I've dealt with that I've felt that kind of care and commitment."
— with notes from Health Quality Council of Alberta