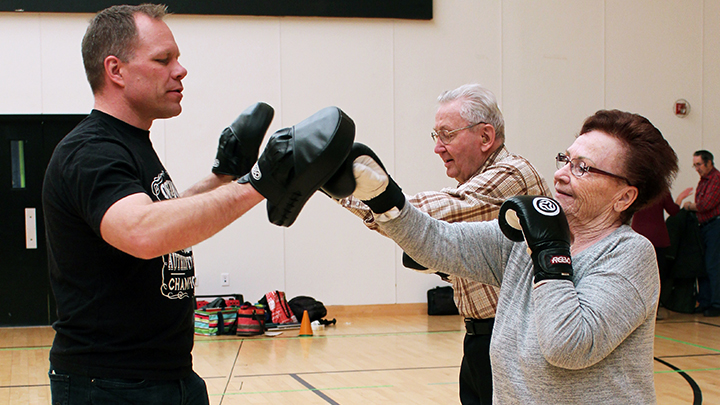 Participants, volunteers welcome to join the fun in PWR!4Life exercise class
Story & Photo by Diana Rinne
GRANDE PRAIRIE — A smile lights up the face of Joan Roberts as she jabs a left, then lands a right punch onto a pad held by volunteer trainer Raphael Bergmann during her boxing workout here at the Reach Centre.
"It's good, fun," says Roberts who travels from Fairview to take part in the PWR!4Life Parkinson Wellness program — a community partnership between Alberta Health Services (AHS) and the Parkinson Association of Alberta.
AHS physiotherapists Sailaja Bayapaneni and Rosanna Clark lead the twice-weekly Parkinson-specific exercise program, while Shauna Livesey of the Parkinson Association of Alberta looks after administration.
Interest is clearly growing in the program, which has 18 current participants in its second session, compared to nine in the first. The program runs 12 weeks at a time on Tuesdays and Thursdays at the Reach Centre.
At a cost of $150 for Parkinson Alberta members and $175 for non-members, the program features work on treadmills, PWR!Moves floor exercises and boxing, with a focus on improving range of movement, flexibility and balance as well as boosting cardiovascular endurance.
Both Bayapaneni and Clark underwent specialized training with Dr. Becky Farley, a neuroscientist and founder of Parkinson Wellness Recovery, to become certified PWR!Moves therapists.
Some clients are referred to the program by their doctor, while others seek it out on their own after being diagnosed with Parkinson's.
Parkinson's is a chronic neurodegenerative condition which affects the parts of the brain that control how we move. As the disease progresses, people living with the condition experience limited movement, rigid muscles and tremors as well as potential issues with balance and walking.
Each participant is assessed by the physiotherapists at the Queen Elizabeth II Hospital prior to taking part in the group class.
"We do pre and post assessments," says Bayapaneni. "The improvements have been impressive and the number of falls are down … it really is a success story."
Clark agrees: "We see improvements in (some people) pretty quickly. It's amazing to see the psychological improvements as well."
Participants Ron Hindman, who was diagnosed in 2012, and Linda Sodergren who was diagnosed in 1989, say the program has made a huge difference in their lives.
"With this disease there's a lot of darkness," says Hindman, "but when you come out of here you just feel good. It's given me my life back, really."
"It's slowed the progression," says Sodergren. "There were things I was having problems doing that I can do easier now."
The social aspects of being able to share her experiences with group members also appeal to Sodergren, who adds: "It takes the stress away."
Bergmann, who owns and operates Champion Gym in Grande Prairie, has been volunteering his time over the past year to share his boxing and training know-how with folks in the PWR!4Life program.
"When I come in here and I haven't been having a very good day, they just lift my spirits," he says. "The personalities, the stories, they make me smile — and they work hard, you know."
Volunteers who would like to train or help out with program clients are always welcome. For information how to become a volunteer or to participate in the program, please call Shauna Livesey of the Parkinson Association of Alberta at 780-882-6640.