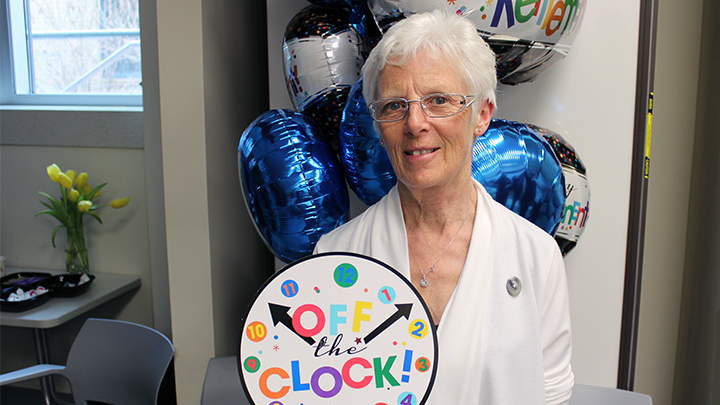 Compassion propelled Joy Teppler through 34 years in ICU
Story by Vicki Hall; Photo by Blain Fairbairn
CALGARY — After 50 years of nursing, Joy Teppler still remembers the red roses.
There were 12 of them in a bouquet delivered by a man who had just lost his young wife to cancer on the oncology unit.
"I was working the evening shift and she died that night," Teppler says. "Her husband told me, 'I didn't know before this that nurses really care.'"
Teppler broke down that day and the held the lessons from that encounter close throughout a career that saw her work for 34 years in the intensive care unit (ICU) at the Foothills Medical Centre (FMC).
"That memory has stuck with me since 1976," she says. "Nurses are not cold and uncaring. We are warm and feeling. It's all about compassion."
Compassion propelled Teppler through the inevitable ups and downs that come from working in the ICU. Her pending retirement sparked an outpouring on Twitter from physicians, nurses and other medical professionals.
"I owe so much to her," Dr. David Zygun, Zone Medical Director, Edmonton Zone, wrote on Twitter. "She provided exemplary care for thousands of patients in her career.
"She also cared for and taught thousands of students, staff, docs and families. FMC ICU will not be the same without her. Joy, we all wish you a wonderful retirement!"
Dr. Zygun referenced the hashtags #mentor #nurse #theunitthatjoybuilt. And in truth, Teppler really did help design the new 36-bed ICU that opened in the McCaig Tower in 2011.
"It was such an exciting opportunity," she says. "Because I had been a bedside nurse and a nurse clinician, I had the firsthand experience in knowing what can help us better care for patients in terms of design and physical layout.
"I was very fortunate that the physician group worked so collaboratively with us."
By definition, critical care nursing is a demanding profession. Teppler could have moved to another department, but chose time and time again to stay.
"Most ICU nurses are not lifers like I am," she says with a laugh.
Indeed that's true.
"I actually think it was a bit of calling for her," says Caroline Hatcher, FMC Executive Director. "It is amazing to be that many years in ICU. It's a very intense place, as the name illustrates – lots of highs and lots of lows.
"She just really thrived in that team environment of constant change, constant progression."
About 15 years ago, Teppler moved into a management role with much of her focus directed at supporting staff so they in turn can provide better care for patients and families.
"Joy was my clinician when I first started in ICU," Stacey Litvinchuk, Executive Director of the Surgery Strategic Clinical Network, wrote on Twitter. "She is amazing and will be missed."
The degree to which she will be missed was evident judging by the turnout Tuesday at a tea held in her honour.
"She didn't want us to do anything for her retirement," Hatcher says. "She wanted to go out quietly. She's so genuine and likes to be under the radar. She's a wonderful mentor and leader – very patient, very calm, an excellent teacher…."
Clearly uncomfortable in the spotlight, Teppler says it's not about her.
"It's about the team," she says. "The team you work with is essential. The team helps you get through the days that are really, really tough. You support each other."
To keep herself grounded through the years, Teppler relied on her husband, who also works in healthcare, and religiously walked her dogs after work to unwind.
"That gave me my private time to review my day," she says. "I guess you could say I've got a solid inner fortitude."
In retirement, Teppler plans to golf, take cooking classes, volunteer and plant her garden – once it finally dries out.
And no matter what flowers this season, there will always be 12 red roses that linger in the back of her mind.
Twelve red roses that served as a forever reminder of how one nurse, any nurse, can impact a life.