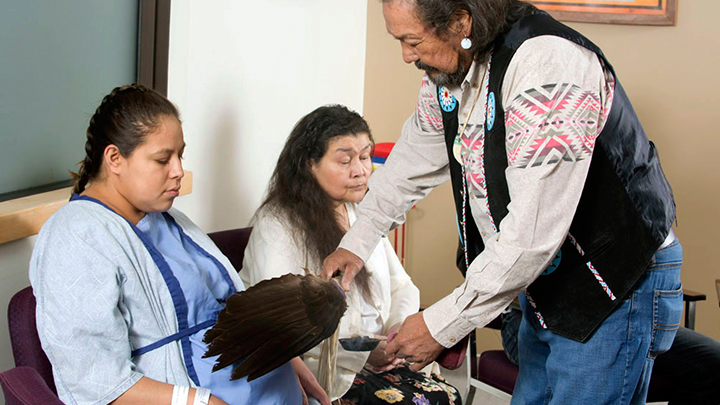 Cultural room at Red Deer Regional Hospital brings traditions, comfort to patients
Story by Melissa Ballantyne | Photo courtesy Michael Interisano
RED DEER — Laina Strongman made her arrival into the world earlier than expected, but did so surrounded by positive energy, thanks in part to a cultural smudging ceremony at Red Deer Regional Hospital Centre (RDRHC).
Prior to Laina's arrival, her mother Lainey Strongman attended a smudge with an elder at the Spiritual Cultural Room in RDRHC — something she says not only connected her with cultural practices, but gave her peace and comfort during labour.
"My mom and I had been planning to smudge that week, prior to the baby being born," says Strongman. "I went in labour early, and was by myself when I came to the hospital. I was really nervous when they admitted me. I didn't want to be alone or have my baby born without being smudged."
A Red Deer resident for several years, Strongman grew up in Maskwacis on the Montana First Nation. Since moving to the city, she says she's found it hard to keep active links to her cultural practices, including ceremonial smudges.
Smudging is a sacred Indigenous tradition that's been practised for hundreds of years.
"We burn traditional plants, including sage and sweetgrass to create a cleansing smoke," says Wilson Okeymow, a Cree Elder and cultural helper who performs weekly smudges at RDRHC. "The smudge balances energies and cleanses the body, mind and spirit.
"As the smoke rises, negative energy, feelings, and emotions are lifted away. Our prayers rise up with the smoke to the Spirit World where the Creator resides."
During Strongman's labour, a volunteer came by her hospital room to say the smudge was underway — something she says gave her an immediate sense of relief.
"I was so happy knowing that I'd be able to have smudging and prayers," she says. "It brought me peace and comfort, and helped me feel safer knowing that there wasn't going to be any negative energy around myself and the baby."
During a sharing circle that followed the smudge, Strongman spoke further with Okeymow and learned he also performs traditional naming ceremonies.
"I don't know any elders in my community who perform that ceremony anymore, and I have been searching for someone that who could name my oldest child who is now nine," says Strongman. "It's hard to explain the feeling of how much it means, knowing I'll be able to give them that important piece of identity and connection with our culture.
"It's just amazing that the hospital has this."
Strongman says she's planning to attend more smudges at the hospital in the near future — and adds that her baby Laina, now almost four months old, is a happy and contented baby.
The hospital's Indigenous Culture room provides a space where people can balance traditional medicine with spiritual healing. Patients, families and staff are welcome to attend smudging and prayer ceremonies, which take place every Wednesday at 2 p.m.