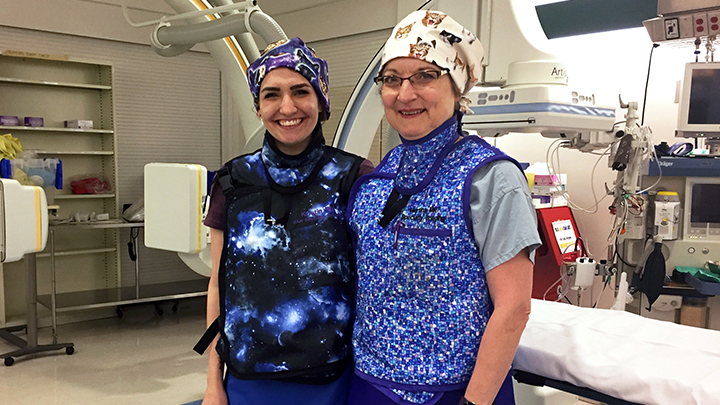 Martina and Kristin fortify family bonds as part of Diagnostic Imaging team at U of A Hospital
Story & photo by Vanessa Gomez
EDMONTON — For Kristin Kunkel, every day is mother's day, in a special collegial way. As a registered nurse, she loves when her path crosses that of her mom Martina Kunkel, a medical radiation technologist, while working at the University of Alberta Hospital (UAH).
To their colleagues — who affectionately refer to them as "Kunky" and "Kunky Jr." — they're an important part of the tight-knit team in the hospital's Diagnostic Imaging (DI) Unit.
"We've always had a really strong relationship," says Kristin. "Sharing a love of healthcare helps us relate to each other, so if something goes wrong she can kind of support me."
Their professional association has only strengthened their natural mother-daughter bond, "and if we all had a bad day, we all know what it was like."
Martina began her career as a general medical radiation technologist and then became interested in computed tomography (CT) scanning and interventional radiology, which led to her current DI role in interventional radiology.
Her daughter, Kristin, followed a somewhat similar career path, and ultimately found herself working near her mom.
Initially, Kristin admits she didn't quite know what she wanted to do as a career, but she knew she wanted to work in healthcare. Her first job as a porter, which entails transporting patients to and from their units for their DI procedures, kick-started her interest in the unit.
"I kind of liked the idea of working with patients before the procedure, during the procedure and after," says Kristin.
Martina is proud when she sees the care her daughter provides to patients at the UAH, and although their roles on the DI Unit are different, she feels blessed to be able to share an interest in healthcare with Kristin.
"Feeling the care that Kristin provides to her patients and seeing the respect she has from her colleagues is a mother's day gift I get to cherish all year long," says Martina.