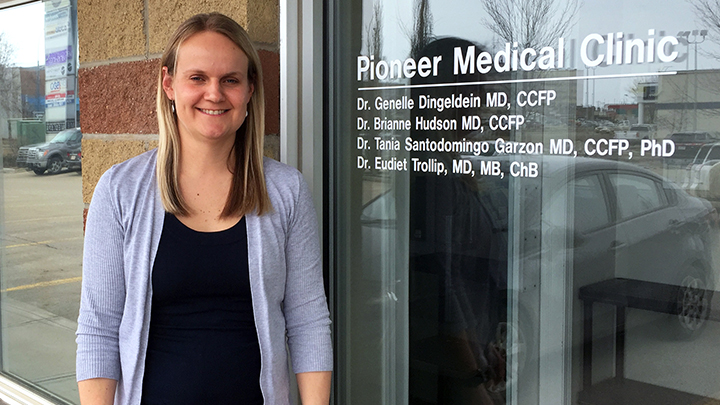 Program comes to Grande Prairie as part of provincial expansion
Story & photo by Lisa Laferriere
GRANDE PRAIRIE — Some days feel worse than others for 79-year-old Audrey Merlo, who lives with a chronic condition and is prone to infections. But one of the worst one in memory came in early April when she didn't feel well enough to make it to either her doctor or the emergency department. Naturally, her family grew worried.
"Our daughter Laura just happened to have a doctor's appointment for herself that same day and offered it to me, but I told her 'no, I can't get out of the house to get there,'" says Audrey, who lives with her husband, Licio (Lee) about 10 minutes outside of Grande Prairie.
So, at her appointment later that day, Laura raised her concerns about her mother with Dr. Brianne Hudson, who is also Audrey's physician.
"When we learned of Audrey's health concerns, we were going to try to make space for her at the clinic," says Dr. Hudson. "But Audrey said she didn't feel well enough to get here. And so we advised her to go the emergency department, and again, she said she didn't feel well enough to get there, either. At that point, I remembered that there was a new Community Paramedic program in the city that had just started about a week prior. I thought, this would be a good opportunity to give this program a try."
Dr. Hudson called AHS Emergency Medical Services (EMS) and connected with the Community Paramedic Program, which recently launched here to improve access to medical care for seniors and vulnerable people who don't always need to go to hospital, or who cannot be taken there.
That same day, within hours, AHS Community Paramedic John Rogers showed up at Audrey's house.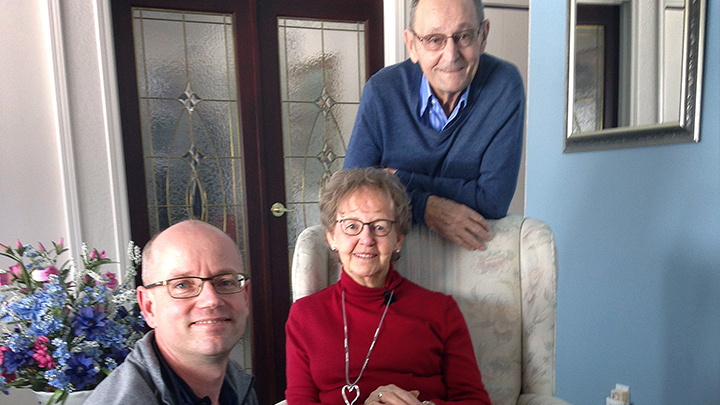 "John showed up and I was lying on the sofa," says Audrey. "He got an IV going, checked my heart rate, and did some bloodwork and a urinalysis. I was very impressed with him."
Before Rogers arrived, he took a moment to review her medical history and her physician's recommendations, based on what was known about current condition. While still at Audrey's home, Rogers called Dr. Hudson to consult and give an update on her condition. He then wrote two prescriptions for medication, as per Dr. Hudson's advice.
"It's a really interesting program. It seems progressive in nature," says Dr. Hudson. "In Audrey's case, it saved her a trip to the hospital and it saved an open bed in the emergency department. I think there are a lot of positives there."
Audrey and her husband say they're both thankful for the home visit. "That same afternoon I was already feeling better," says Audrey.
"We're both seniors living independently in our own home," says Lee. "A program like this is extremely valuable, as well as convenient, to us. We appreciate the quality of care and the program AHS is providing with the EMS Community Paramedic Program. John was very professional and extremely caring. He even called the next day to follow up and see how Audrey was feeling."
"There needs to be more people like John," adds Audrey.
In all, there are four Community Paramedics based in Grande Prairie. The program runs 6 a.m. to 6 p.m., seven days a week. AHS expanded the program, initially established in Edmonton and Calgary, to more communities across the province at the end of March.
"I think the biggest value in the program is being able to treat people in their homes instead of taking them to the hospital," says Rogers. "The focus is on providing treatments that take longer periods of time, as opposed to ground ambulances, where the focus is more short term and getting the patient to the hospital as quickly possible.
"It costs about $1,100 less to have the equivalent treatment done in home versus being transported to the Emergency Department."
The Community Paramedic program is just one of EMS' commitments to provide appropriate care in an appropriate setting. For more information, please visit www.ahs.ca.