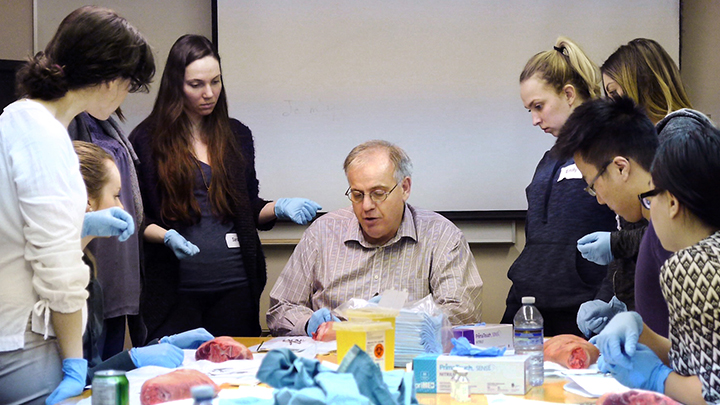 Since leaving his native South Africa in 1998, Dr. Pieter de Wet has become a beloved, respected rural physician in his adopted hometown
Story by Erika Dart
McLENNAN — Twenty years ago and 16,000 km away, an ambitious South African doctor left his homeland to build a new life for his family in Canada. Today, Dr. Pieter de Wet is marking this milestone by celebrating his two decades as a beloved rural physician in his adopted hometown of McLennan.
"My wife and I, we came in as foreigners and we were never treated as foreigners," says Dr. de Wet, who arrived here with his wife Cato and their two children in 1998. "We were accepted into the community and have always been a part of it."
As the community medical director at the Sacred Heart Community Health Centre for the past 13 years, he's become a hugely important and much-loved figure in local healthcare in town and across the region.
"It makes such a big difference whenever you have a rural physician who stays in a community for a long time," says Barbara Mader, site manager at the Health Centre. "He has a great relationship with his patients and he has embraced the community. He volunteers a lot — quite an accomplishment considering the hours a rural physician puts in."
"Dr. de Wet is a very community-caring person, he's done so much here," adds Myrna Lanctot, mayor of nearby Donnelly and coordinator for the Smoky River Regional Physician Recruitment and Retention Committee.
The indefatigable physician has also served as president of the McLennan Recreation and Leisure Society for almost 10 years. On top of that, he spearheads an ongoing campaign to beautify the town, which has seen the addition of 50 benches, 500 trees and several walking trails in the cosy community.
The trails link up to the Manoir du Lac seniors' home to make it easier for elderly residents to get out and about to enjoy nature. Dr. De Wet also owns several businesses in town and sits as a director on the board of the McLennan and District Chamber of Commerce.
"He's the unofficial 'Mister McLennan,'" says Mader.
It's all a labour of love, says Dr. de Wet.
"I think the community appreciates what we are doing for them — and it does our hearts good to know that people are happy with what we've done."
Dr. de Wet has practised as a physician since 1987. "I've always loved medicine."
"His work ethic, discipline and sense of teamwork are unparalleled," Dr. Christopher Blackburn wrote in a letter nominating Dr. de Wet for the 2017 Rural Health Professions Action Plan's (RPAP) Alberta Rural Physician Award of Distinction. "His enthusiasm at the workplace is infectious and a quality that endears him to his patients and his colleagues."
In a bit of personal history, Dr. Blackburn recalls performing his practice readiness assessment at the Sacred Heart Community Health Centre with Dr. de Wet, something many doctors here have done under his supervision.
"He's very patient," says Mader. "He's great at teaching new nurses and mentoring new physicians doing their Canadian evaluations."
"I went through the same process," adds Dr. de Wet. "It's good to help other people get on their feet when they arrive here."
"I like it, too, because in the process I keep my own skills up, because you have to be on your toes. They ask you all sorts of questions. I get as much training out of the deal as they do."
The only concern with Dr. de Wet's lengthy tenure as a physician in McLennan, says Lanctot, is that one day it will come to an end.
"We're very happy he's in our community — and we hope it's a few years before he retires," says Lanctot. "But I know he's heading that way."
Of his future plans when that fateful day arrives, Dr. de Wet shares his next dream: "I have a piece of land in Panama. I hope to build my little cabin there — and retire partially there, and partially here in Alberta."