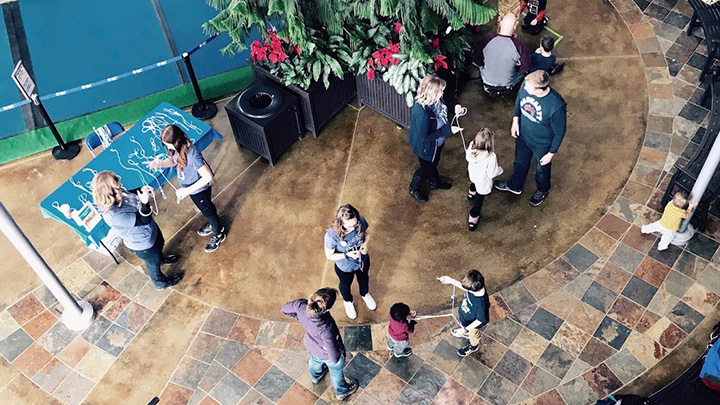 Red Deer coalition helps children develop qualities to succeed in life
Story by Melissa Ballantyne | Photo courtesy of SPARC Red Deer
RED DEER — Hugs, a giant game of Jenga and an interactive display about gratitude, at first glance, have little in common — but all three play a role in strengthening communities.
To show gratitude, to be kind and caring to socially engage with others are all considered developmental assets. Fostering these qualities in children is the key focus of Alberta Health Services (AHS) and its partners in the Red Deer Strengthening Positive Assets & Resiliency in Communities (SPARC) coalition.
"These three activities provide different experiences that help build assets, or positive building blocks, in children," says AHS Health Promotion Facilitator Rania Page, also co-chair of the Red Deer SPARC coalition.

"There are 40 developmental assets that SPARC wants to educate the community about," says Paige. "Research shows the higher number of assets a young person has, the more likely they are to succeed in school, make better decisions, have better coping skills and have better overall health."
Developmental assets can be both external and internal, and range from family support, a caring neighbourhood, service to others, safety, creative activities, school engagement, integrity, honesty, interpersonal competence and self-esteem.
There are many ways for families to promote asset-building at home, but many may be unsure of exactly what development assets are, or how to support their children in building them.
To support families, SPARC offers Simple Connections Stronger Families events. Suitable for families with children ages 6-12, these events build resiliency and teach families more ways to connect.
Two events have been held in Red Deer so far this year, with a total turnout of more than 600.
"We're so happy with the early success of this program," says Denise Fredeen, AHS Health Promotion Facilitator and SPARC member. "Each event is designed with hands-on activities that give children positive experiences, and help parents recognize the specific assets being built."
Games, family meals, constructive use of time, discussions on expectations and boundary-setting all play a role in asset building — and they're featured in 'stations' at these events.
"A lot of these are things that often come naturally," adds Paige. "However many parents may not be aware of the total impact they have. These events help foster understanding and enable parents to make that connection. It's a really simple way to grow healthy, happy kids."
The SPARC coalition comprises a number of community groups including: Alberta Health Services, the City of Red Deer, Red Deer Catholic Regional Schools and the Red Deer Public School District.
For a full list of partners and upcoming events, please SPARCRD on Facebook.