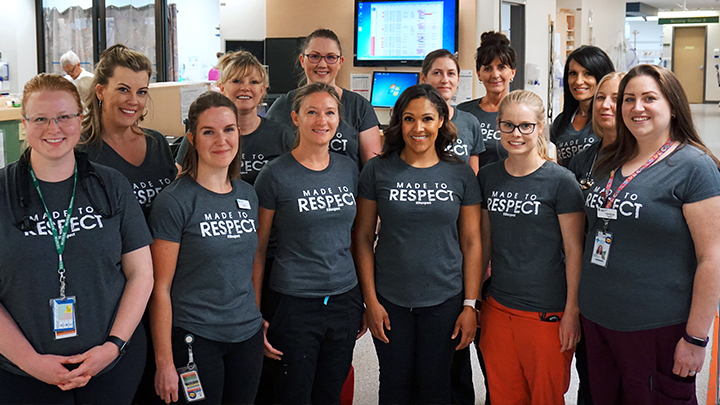 Red Deer 'tees' up to support Sexual Assault Awareness Month
Story & photo by Melissa Ballantyne
RED DEER — It's not always a subject people feel comfortable talking about, so it may come as no surprise then that statistically, sexual assault is the least reported form of violence.
Challenging the hesitation to talk about sexual assault, a growing number of Alberta Health Services (AHS) staff at Red Deer Regional Hospital Centre (RDRHC) are donning special T-shirts to help raise awareness in May, which is recognized in Alberta as Sexual Assault Awareness Month.
"I've had over 80 employees sign up to take part, including leadership" says Ronnie Biletsky, Central Alberta Sexual Assault Response Team (CASART) coordinator.
From emergency department personnel and Crisis Response Team members, to Central Zone public health staff and Edmonton's Sexual Assault Response Team, more and more are joining Biletsky in wearing the Made to Respect T-shirts.
"It definitely shows support for our CASART program and to advocate for people who experience violence," Biletsky says. "Wearing these shirts shows that staff support people in reporting sexual assault — and we hope that it will create an opportunity to educate others through initiating conversations.
"Sexual assault can happen to anyone. Most victims know the person who attacked them, but only three per cent of victims of sexual assault actually report it."
Based at RDRHC, the CASART program offers sexual assault examinations with the option of forensic evidence collection by the RDRHC emergency department.
The program offers immediate treatment and prevention of sexually transmitted infections, recommended bloodwork, pregnancy-prevention options and management of other medical concerns, as well as providing resources for follow-up care, such as counselling.
"As healthcare providers, we want to do everything we can to support survivors of sexual assault. We listen to what the patient wants and support them with whatever decision they choose," says Biletsky. "Increasing awareness within the community about sexual assault is an important part of prevention."
The tees are part of the #iRespect campaign, led by the Central Alberta Sexual Assault Support Centre, which has been a collaborative partner with the CASART program since its inception in 2005. In addition to its programs and services, the centre provides 24/7 response to the hospital to support victims of sexual assault and their families.
The CASART team saw 123 sexual assault cases in 2017 — the highest in the program's 13 years. Biletsky says that increase may be due to an increase in reporting as more awareness is raised about sexual assault.

"Sexual assault affects everyone," she says. "I think that even the smaller steps we're taking to raise awareness, like wearing these T-shirts, is helping more people feel comfortable to come forward and talk about it."
See more information on the #iRespect initiative.