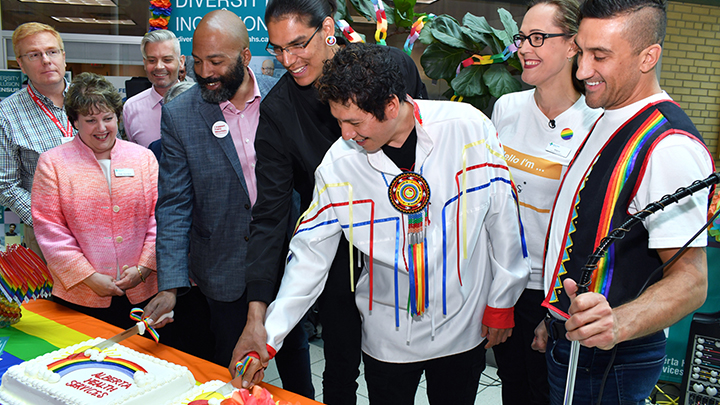 'Our diversity is a strength'
Story by Vanessa Gomez | Photo by Ken Dalton
AHS staff and members of the public gathered at the Royal Alexandra Hospital (RAH) to celebrate the first-ever Pride event hosted at an AHS facility on June 11.
Supported by AHS' Diversity and Inclusion team and RAH site leadership, the event symbolizes AHS' commitment to create safer and more inclusive environments for staff and patients of sexual and gender minorities.
"Our diversity is a strength and an integral part of who we are," says Judith Hockney, Senior Operating Officer of the Royal Alexandra Hospital and Sturgeon Community Hospital. "It helps us to understand, to empathize, to provide perspective and to support one another."
The event began with a blessing from Two-Spirit spiritual leader, Warren Winnipeg, and included a variety of education booths for staff. These booths included representatives from HIV Edmonton, Edmonton Men's Health Collective and Naloxone Kits, as well as AHS teams from the Sexually Transmitted Infection Clinic, Knowledge Resource Services, Provincial Seniors Health and the Diversity & Inclusion Census.
"This programming is designed to inform, educate and create dialogues within our community. It's incredibly important to the health of the LGBTQ+ community," says Keith Andony, Manager for CAMIS, and Acting Patient Care Manager for Acute Pain Services and Edmonton Zone Trauma Services.

Education sessions covered topics such as how to create safe and inclusive spaces, LGBTQ+ health resources and information on Alberta Health's Final Stage Gender Reassignment Program. An evening panel discussion also shared the steps AHS is taking to provide inclusive spaces and quality care for gender and sexual minority communities.
On June 9, Emergency Medical Services coordinated AHS' involvement in Edmonton's Pride Festival Parade. This year's parade has the most AHS participants to date, with members of AHS' Executive Leadership team leading staff, physicians and volunteers from across the organization as the parade moved through the Strathcona neighbourhood.
"We are celebrating the many steps that have been taken towards creating safer and more inclusive environments for the sexual and gender minority community," says Marni Panas, Senior Advisor for Diversity and Inclusion with AHS. "We also want to acknowledge there is still work to be done to remove the barriers that exist for people to access healthcare services, be their whole selves at work and participate fully in society."
AHS completed its first Diversity and Inclusion census earlier this month, which aims to give a clearer picture of the diversity of AHS' workforce. The results of this census will be used to develop and improve programs and services so all staff, physicians, volunteers and patients can feel safe and welcome at AHS.
A Provincial Advisory Council is also in the early stages of development and will advise on health services for sexual and gender minority people across Alberta.
"Alberta Health Services is coming out as an organization and I could not be more proud as a member of the LGBTQ+ community and the Alberta Health Services family," says Panas.