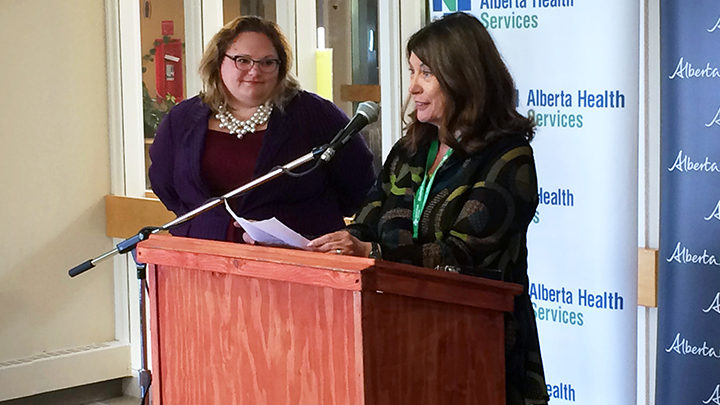 Clinics can treat up to 600 new patients annually
Story by Lisa Laferriere | Photo by Kirsten Goruk
Alberta Health Services (AHS) and the Government of Alberta are expanding opioid dependency treatment in the AHS North Zone.
An expanded opioid program in Fort McMurray means that clients are now able to initiate opioid replacement therapy (when someone first starts taking opioid replacement therapy) as well as access maintenance services for opioid replacement therapy (the ongoing process as someone continues to take opioid replacement therapy) in the community.
"Suboxone or methadone is the proven treatment in helping patients recover from substance use disorder, as it reduces cravings and withdrawal symptoms," says Dr. Olurotimi Ogunsina, a psychiatrist and treating physician at the Fort McMurray opioid dependency clinic.
"This expansion in the number of patients who can access opioid dependency treatment in the Fort McMurray area is a significant improvement in the quality of services provided for their support and recovery."
Though maintenance opioid dependency treatment has been available in Fort McMurray since January 2016, prior to this expansion, local residents had to travel to the Edmonton Opioid Dependency Program to initiate treatment.
The expansion of the program began in February 2018, and the Minister of Health, Sarah Hoffman, and staff and community partners and organizations, officially celebrated it on June 11, 2018.
"The expansion of this program is great news for all of us who care about helping those who are struggling with addiction to find a way to better health," said Dr. Sandra Corbett, Interim North Zone Medical Director of the AHS North Zone. "And that's ultimately the reason for all of this - to provide care for the residents of Fort McMurray and the surrounding region who need this specialized treatment to overcome opioid addictions and live full, healthy lives."
The program in Fort McMurray has the capacity for up to 300 clients. The duration that someone uses the program is client-specific but can continue for someone's lifetime.
In the North Zone, High Prairie is also home to a new opioid dependency program, which opened June 4, 2018, and one in Bonnyville is slated to open in the upcoming weeks. These programs have the capacity to serve up to 150 clients each.
"Opioid dependency is a growing issue in our province and AHS is working to increase access to treatment and other supports, including counselling. Expanding treatment to new patients in Fort McMurray and adding two new clinics in High Prairie and Bonnyville is an important part of that response," says Dr. Corbett.
In the AHS North Zone, these three new programs are in addition to an AHS opioid dependency treatment clinic that opened in Grande Prairie last year.
Physicians may refer their patients to the programs, or patients may also self-refer. For more information about the new Opioid Dependency Program's and other available addiction services, visit www.ahs.ca/services/odp.aspx.
A list of opioid dependency programs available across the province can be found on the College of Physicians and Surgeons website.