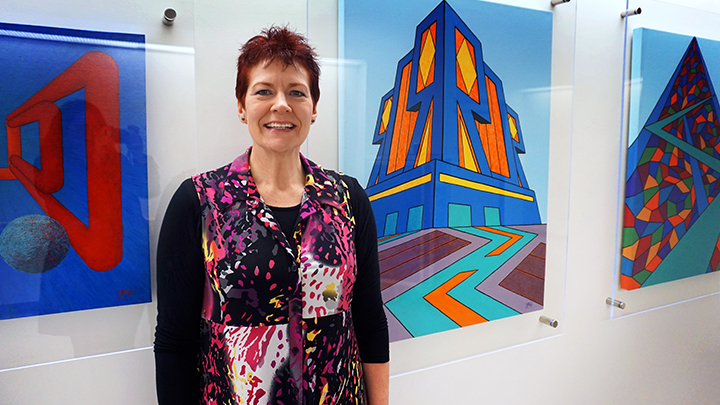 Artistically gifted Red Deer pharmacist donates her bold creations to brighten hospital stays for ICU patients
Story by Heather Kipling | Photo by Tracy Kennedy
The long hallway to the Intensive Care Unit (ICU) looks a whole lot brighter these days at Red Deer Regional Hospital Centre (RDRHC) thanks to artwork donated by a talented staff member.
With her love of bright colours and bold lines, critical care pharmacist Roxanne Seiferling has put her brush to three canvases to capture elements of compassionate, safe, accessible and patient-focused care.
Together, the striking pieces arguably reflect a quote from the founder of modern nursing Florence Nightingale who said: "Variety of form and brilliancy of colour in the object presented to patients are an actual means of recovery."
"These designs are intended to highlight the dynamic nature of health care and to promote the excellence of our local services," says Seiferling. "My hope is that the artwork provides an inspirational reminder for those who work in health care, and a reassuring sign for patients and their families."
The three paintings present a unique depiction of Alberta Health Services (AHS), the hospital and its ICU.
"My goal was to create vivid and engaging, but unconventional signage," she adds.
Using a stained-glass motif, Seiferling's visual metaphors come to life as the "mountainous" AHS and the "towering" RDRHC.
In the first work, AHS – A Multifaceted Institution, a harmonious blend of colourful facets illustrates "the multitude of collaborative programs necessary for a coordinated health care system. Effective teamwork can be found throughout the organization, and in my role I am fortunate to work with dedicated colleagues in both pharmacy and intensive care," says Seiferling.
Through strong lines and vibrant hues in the second work, RDRH – Our Local Centre of Excellence, Seiferling depicts the hospital in a bold fashion. She says she stylized letters in both paintings to represent pathways for accessing quality services.
Her third canvas, Journey Through ICU-CCU, pays tribute to the dual-service Intensive Care – Cardiac Care Unit at RDRHC. "Blue spheres are used to portray patients, and the transfer of orange and red to the spheres signifies the impact of critical care on their health."
The presence of artwork, along with art therapy to bring these creations to life for patients, have been shown to positively impact one's physical, mental and emotional well-being. Art can convey powerful thoughts and feelings, and has the ability to move people in a healing way.
Seiferling, who's always nurtured her artistic gifts, says creating the colourful tributes for her workplace has proven a natural fit.
"Each of us has a unique perspective on wellness and health care, and I'm proud of the work we do as an organization, as a hospital and as a health care team."