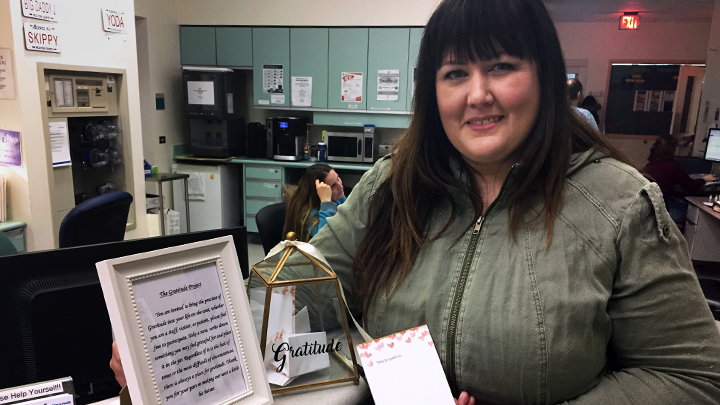 Royal Alex ICU team jots down their reasons for joy
Story & photo by Shelly Willsey
EDMONTON — Embracing a spirit of gratitude, the team in the Royal Alexandra Hospital's Intensive Care Unit (ICU) are encouraging each other to recognize the positive moments in their days.
Three gratitude jars are on display around the ICU — along with pens, paper and a request for physicians, staff and visitors to jot down whatever they're grateful for. Then, once a month, Registered Nurse Meredith Turner gathers up the notes and emails the shared comments to her colleagues on the critical care team.
Turner started the project as a way to care for her team's mental and emotional health.
"I had a lightbulb moment after hearing Dr. Curt Johnston speak at a critical care symposium, about the health of a care provider," she says. "The same principles of health that apply to an individual can also apply to a unit, like a living thing. Our team and our unit have physical, mental and emotional well-being — and we can work on these aspects of health together."
Turner approached Tove Leblanc, Patient Care Manager for the ICU, who agreed that such a simple act could have a beneficial impact.
"It's easy to get caught up in our routines, and this is a way to recognize each other and give positive feedback using specific examples," says Leblanc. "Your day doesn't always go according to plan, but this is a way to be aware of the amazing moments that happen every day."
First set up in January, the jars continue to garner 40-50 gratitude notes every month. Reasons for being grateful have varied from colleagues' support, an impactful moment of silence when a patient passed away, seeing the sun rise on the commute to work, and even pizza.
"At the beginning, I just wanted our team to have one nice email to read each month," says Turner. "We have the opportunity to do a special job, and this can help us recognize and appreciate where we are, and what we're doing."