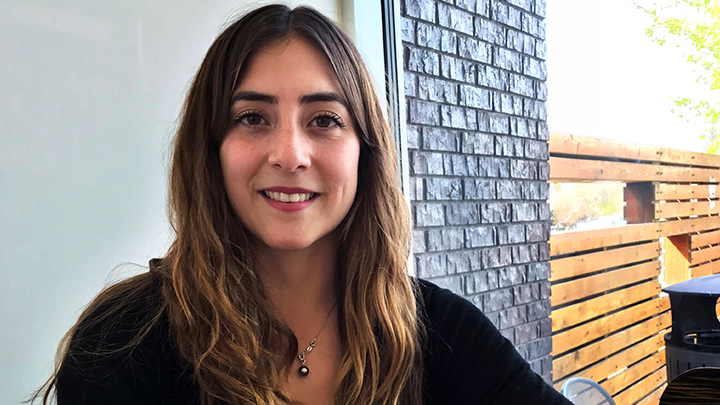 Sofia finds satisfaction in helping people in need in Grande Prairie
Story & photo by Diana Rinne
GRANDE PRAIRIE — Helping people in need find their identity, literally, is giving great satisfaction to Sofia Leal, an Alberta Health Services (AHS) volunteer.
Leal's been a part of the AHS ID program since moving here with her husband a year ago. With a degree in psychology and a desire to become more involved in her community, she was connected with the program through AHS Volunteer Resources.
"They helped find the best fit for me," says Leal, who also volunteers with the AHS Adult Day Program.
Leal enjoyed a training session with Celina Dolan, Manager of Housing Initiatives and the AHS ID Program and Nancy Mackenzie, AHS ID Specialist for Grande Prairie, before joining the program, first introduced to Grande Prairie in 2017.
The program has been running in other Alberta cities since 2013, when AHS health providers identified lack of identification as a major barrier to discharging clients from services. To date, the program has been established in Calgary, Edmonton, Lethbridge, Medicine Hat and Grande Prairie.
The AHS ID Program helps at-risk or recently housed Albertans who enter care without Alberta identification or Alberta Personal Health Cards. Clients include those in AHS facilities and those supported by AHS Community Programs and Services — including those released from a number of Alberta Correctional and Remand Centres, who are receiving assistance from the AHS Corrections Transition and Diversion Teams.
"This program is really changing lives," says Dolan.
Leal agrees, adding that for many of her local clients, the AHS ID program provides empowerment and a way to move forward in their lives.
The program is unique in that it can speed clients through alternate channels — and connect directly with provincial and national systems which have agreed to collaborate and confirm client-provided information. In many instances, this greatly reduces the time it takes to obtain an Alberta Identification or Alberta Health Care card.
This can make a huge difference for a client waiting to be transferred to a more appropriate level of care, says Dolan.
"I think the biggest gain we see with the program is that it can improve clients' health. They are able to access follow-up appointments, community supports, home care, prescriptions, methadone treatment, mental health services and treatment."
Leal, who works in the Grande Prairie office one day a week, says learning more about the AHS ID Program and the people it serves has proven an emotional experience at times.
"The smile on their face when they come in to pick up their ID says it all."