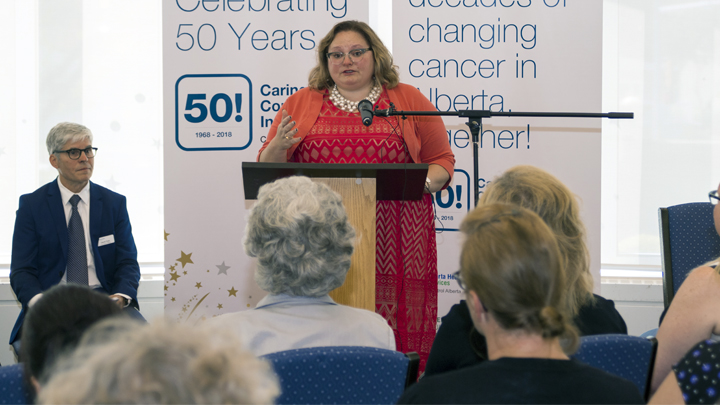 'You saved my life twice' says grateful volunteer Debbie Elliot
Story by Kristin Whitworth
EDMONTON — The Cross Cancer Institute (CCI) has proven itself a leader in innovative cancer research, prevention, treatment and care initiatives across the province and beyond since opening its doors here in 1968.
The CCI celebrated its 50th anniversary during the first week of July with a variety of events that included dancing, singing, games and more. The fun activities — put on by a team of dedicated employees — led up to a grand celebration on July 6 with Minister of Health Sarah Hoffman and other guest speakers.
"For half a century the Cross Cancer Institute has provided exceptional support, treatment and care to patients and their families," says Hoffman. "The staff and volunteers have been, and will continue to be, a beacon of hope for those facing cancer. The Cross is also a source of leading edge innovation and I commend the medical teams for their compassion serving the needs of their patients and for their dedication furthering cancer research and treatment options."
Dr. Francois Belanger, Vice President, Quality and Chief Medical Officer for Alberta Health Services (AHS), also spoke.
"The Cross Cancer Institute has been a leader in caring for Albertans, and neighbours for 50 years," says Dr. Belanger. "It has become a fixture in the community, providing inpatient and outpatient services to surrounding communities. Today's celebration is not just about a facility. It's about the dedication of staff, physicians and volunteers who have helped make the Cross Cancer Institute what it is today."
The importance of this milestone was reflected by the number of the participants — hundreds of staff, volunteers and partners came out to celebrate the great work happening at the CCI.
Executive Director David Dyer credits his institute's success to the people who make it tick.
"Throughout the CCI's history, many people talk about how much cancer care has changed over the years. But I think what's important for us to celebrate this week is how much cancer care has changed because of this facility and the people who've worked here," he says.
"For the past 50 years, the Cross has given AHS, and our partners, including University of Alberta, a place to conduct cutting-edge research, break new grounds in treatment standards and provide world-class cancer care, together.
"This facility is a place where staff and researches have worked side by side to discover and deliver innovative and advanced methods of treatment and has built upon the tremendous work that's done here every day."
The Cross Cancer Institute's impact on patients was shared by guest speaker Debbie Elliot, a retired nurse who was diagnosed with breast cancer — and who later had a recurrence — who underwent treatment at the CCI over the course of 17 years. Elliot's gratitude for the level of care and comfort she received convinced her to become a volunteer there so she could do the same for other patients.
"Through it all, the Cross offered hope — physicians and staff who showed that they cared for me, who answered my questions and used their expertise to treat my cancer and to support me through the treatments," says Elliot.
"While at the Cross for treatment I told myself that, when I retired, I was going back to the Cross in a volunteer role. Volunteers work in many roles at the Cross and are treated as part of the team. I knew there were things I could do to make a difference in the lives of patients and their families in the volunteer role. That smile, touch, the small things that make a difference.
"I am happy to be part of the celebration of 50 years of the Cross Cancer Institute serving the health of Albertans and feel blessed to be able to give back to the place that saved my life — twice."