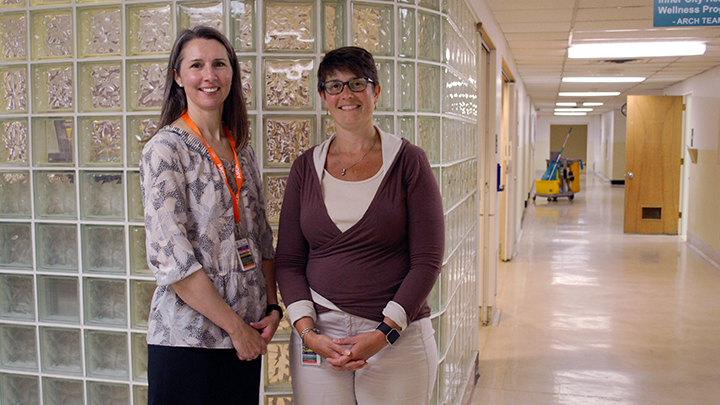 ARCH and CDC teams celebrate successful collaboration
Story by Kirsten Goruk | Photo by Shelly Willsey
EDMONTON — As they mark the first anniversary of their immunization program, the Addiction Recovery and Community Health (ARCH) team at the Royal Alexandra Hospital (RAH looks forward to making a positive difference for years to come.
The ARCH program — launched in 2014 with funding from the Royal Alexandra Hospital Foundation — takes three approaches: clinical, research and education, all designed to support patients who use substances and face multiple health and social inequities.
"It helps us look beyond why they came into the hospital. It's an opportunity for us to offer other care and our patients have been very willing to get as much care as possible," says Dr. Kathryn Dong, physician lead for ARCH.
On the clinical side, patients receive addiction treatment and counselling, have access to harm reduction and social work support and, more recently, to additional immunization services at their bedside.
Public Health staff work with inner-city agencies to offer immunization services to people who are transient, unemployed or without a family physician. After connecting with many of the same visitors at certain agencies, staff believe that working with ARCH helps them to reach new clients.
"This is a great opportunity to help this population. They likely wouldn't get immunized otherwise," says Jennifer Beaudry, Clinical Development Nurse with Communicable Disease Control in Edmonton Zone.
Anyone referred to the ARCH program, who is not immune to Hepatitis B infection, now gets an individualized immunization assessment which looks at their health history. Edmonton Zone's Central Immunization Team prepares a recommendation that can include just one immunization or several, depending on patient needs. It's then up to the patient if they wish to proceed.
Patients enjoy the opportunity to get caught up on childhood vaccines, in addition to vaccines specifically recommended for people with chronic health conditions such as HIV and Hepatitis C. In many cases, these shots help patient ward off vaccine-preventable diseases.
"Immunization is extremely complex, especially for patients with chronic or multiple health issues," says Beaudry. "Each patient needs something different and without that specialized assessment, something might get missed or they won't get the appropriate vaccines."
Since the immunization program began, it's received 157 referrals and administered 167 doses of vaccine to 67 participants. (Sometimes, patients are discharged before they can consent to immunization, while others may decide not to take part.)
The impact is obvious for the staff who work daily with ARCH clients.
"This has been a fantastic opportunity because once we identify a patient who might benefit and fax off the referral, we often get the recommendation that same day," says Dong.
"We're so grateful for these partnerships. We really value them and they make such a different for our patients."