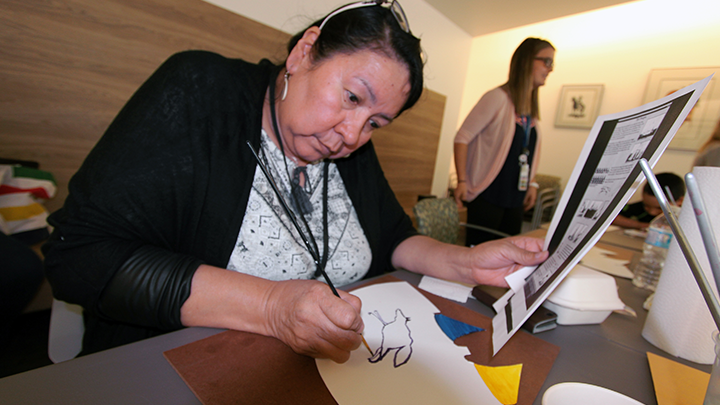 Patients find peace as they create Indigenous art and learn about the culture
Story & photo by Sherri Gallant
LETHBRIDGE — It's a Thursday afternoon as people wander in to the Golden Eagle Lodge on the fourth floor of Chinook Regional Hospital. They've come for the weekly Spirit of Art and Reconciliation program (SOAR), a joint initiative of the Indigenous Health Program and Therapeutic Recreation.
On this particular day, they're creating a tipi out of stiff paper and art supplies, while learning the historical meanings behind tipi designs of First Nations tribes. Relaxing music plays. Some laugh and talk. Others craft their tipi in silence. Some have Indigenous heritage; some don't. But all feel welcome at SOAR, and appreciate the cultural underpinnings drawn from First Nations traditions and practice.
Participants have experienced healing through art in this way since early this year. The drop-in group is designed to help patients — and even former patients who drop by — to create Indigenous art as they learn about the culture, tell stories and make new friends.
Heidi Davis, an AHS Recreation Therapist who created the program for South Zone in partnership with the Indigenous Health team there, helps participants when needed. Ann Fox, Traditional Wellness Counselor for the zone, leads off sessions with a smudge ceremony and shares cultural wisdom throughout the afternoon.
Smudging is the sacred Indigenous practice of using the smoke from medicinal plants to purify the space and centre the person. Some patients have experienced smudging, but those who haven't are guided through the process. Then, they get down to work with an array of paints and art supplies.
"They always have something to say after, about how content they felt," says Fox. "Patients come from many different situations. Some patients come in with PTSD (post-traumatic stress disorder) — and this is a way to connect them with the culture and with finding peace.
"Sometimes when they come in, their art is so distorted at first, and then — as they heal and get better — oh my gosh … such beautiful artwork."
Waylon, an Indigenous patient with mobility issues who uses a wheelchair, says he enjoys everything about the art experience of SOAR, but especially loves the smudge and hearing the Blackfoot language spoken.
Andy Rocks, who is Metis, first came to SOAR as a patient, and continues to attend since his discharge. "I feel a great connection here," he says. "And I love doing the artwork and learning the stories behind it. It's so relaxing."
Roxy Vaile, a Hospital Liaison staff with the Indigenous Health program, says she's amazed to see such positive changes brought about by SOAR.
"They find that it opens them up," she says. "It creates engagement with each other. One of the patients has been really shy and quiet — and now he's visiting. It makes the atmosphere so nice. His laughter and his humour is coming out. It's really good for the spirit.
"Even though they're sick, it does something for the spirit that brightens it and that part has really been good in their healing. Even when they know they're going to be discharged, they want to come back, and they're welcome to. It's not just for the Indigenous people, it's for anyone who wants to come. Other than through food, it's a really good way to break the tension and create an understanding. It's more than just painting."
Davis notes that while it's difficult to capture the outcomes, they have found ways to do it.
"A lot of it is storytelling. It's connections. It's hearing Blackfoot spoken. It's learning about traditional practice or historical things that maybe even Indigenous people don't know; maybe they've had a disconnect from their culture," says Davis.
"At the beginning — and then two hours later at the end of each session — we ask participants to check in and we measure their happiness, anxiety and energy. Overwhelmingly people leave feeling happier. They leave feeling more energy, and they have a reduction in anxiety. And the artwork itself can be used as a tool for outcomes — it tells its own story. The art is going to be our ultimate outcome, along with narrative feedback.
"We had one woman come in and she created this … jumble. She said it was a dreamcatcher. The next week, she came in and did this beautiful picture of Chief Mountain with a feather over top of it. It had the most obvious clarity about it, just one week later."
Art is a powerful medium for people and for wellness, Davis believes. Watching people come in, prepare their mind and heart through smudge, and then stay in the space to visit or create — she can't help but be moved.
"We had one non-Indigenous patient come. She was on oxygen and quite sick. At the end she started to cry and she said to the staff, 'thank you so much for including me into this space; this just broke up a three-week stay in the hospital for me, and I feel like myself again.'
"It's these kinds of comments. We say we are patient-centred, and I do think we are — but this is the kind of opportunity where we are truly patient-centred."