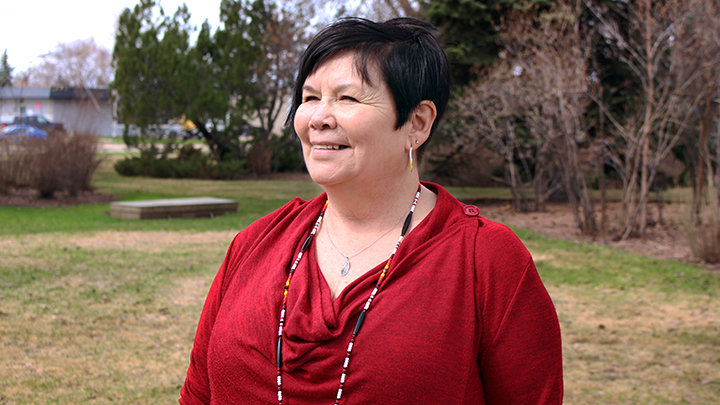 Cultural liaison brings North Zone residents a blend of traditional practices and modern medicine
Story by Erika Dart
GRANDE PRAIRIE — "It's the way of our people," says Marlene Arrance on the importance of including Indigenous cultural practices in healthcare and healing.
Arrance is a Cultural Liaison for Alberta Health Services (AHS) in the North Zone. She provides a blend of modern mental health support and Indigenous cultural practices such as smudging and sharing circles.
"It's important that people have the option to include traditional practices in their healing journey if they want to," she says. "Our ceremonies are powerful. And they work. They have for a long, long time."
Arrance has extensive training on both sides. She's a sexual assault and historical sexual abuse counsellor with specializations in spousal assault, crisis intervention and critical incident response. She's also worked with many Indigenous elders and been given the rights to perform ceremony.
It's up to each individual client, if they prefer a Western medicine approach, an Indigenous cultural approach or a combination of the two.
"Each person's healing journey is their journey," says Arrance, "I just help them navigate that."
Arrance, who is Métis, is part of a Mental Health Travelling Team that offers mental health clinics every second week in High Prairie and three surrounding communities: Gift Lake Métis Settlement, East Prairie Métis Settlement and Peavine Métis Settlement. On the alternating weeks that she's in Grande Prairie, she offers cultural support hand-in-hand with AHS services.
Cherie Mearon lives in Peavine Métis Settlement, a community of 600 people about 50 km north of High Prairie. She says having Arrance come to her community every two weeks has been life-changing for her.
"She's been a godsend," says Mearon, 40. "I don't know if I would even be getting up out of bed in the morning if she hadn't come into my life when she did."
Mearon had gone through a tumultuous, painful end to a difficult relationship only to find herself floundering. She had been seeing another therapist but wasn't clicking with them.
"I stopped to chat with Marlene to get her ideas on what help I could get or what I needed — and we started talking — and I basically realized it was her that I needed," she says, then laughs.
Her regular sessions with Arrance sometimes incorporate cultural elements. "She came and smudged my house for me and said a prayer, to get the bad vibes and the negativity out of the house," says Mearon. "It's felt better since."
"I often go to people's homes," adds Arrance. "I prefer that. Once I know there's no safety issue, I'll go and we'll make tea and chat. I get a lot more done that way than them coming and sitting in an office with me."
It's her clients that keep her going, Arrance says. She shares many stories of that moment when she sees a sparkle of hope and life return to the eyes of people she's helped.
"I believe everyone is born with a perfect spirit, that there are no throwaway people," she says.
To learn more about Cultural Liaison work in the North Zone, please contact Marlene Arrance at 780-513-7504.