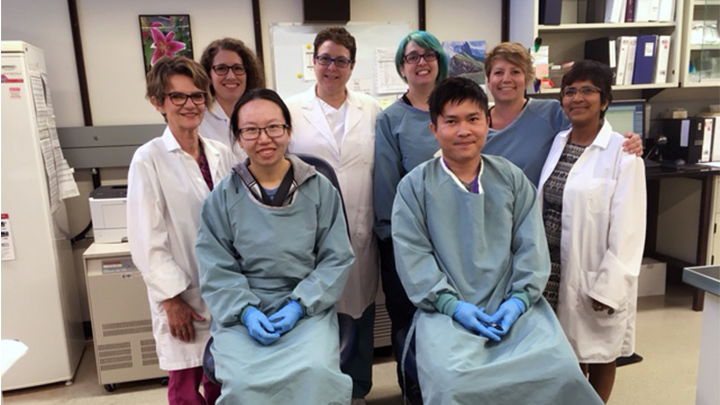 Around-the-clock coverage a game-changer for physicians, emergency department
Story by Diana Rinne
ST. PAUL — Lab staff at the St. Therese – St. Paul Healthcare Centre laboratory are rocking around the clock with 24/7 service now that two new members have joined their team.
"Emergency doctors are getting their tests quicker because the lab staff is always on site," says Megan Boire, Laboratory Services Manager for East Area North Zone.
With the addition in April of a full-time lab assistant and a full-time lab technologist to the St. Paul team, the laboratory now runs day shifts, which cover outpatient and mobile collection, as well as evening and night shifts, which provide greater capacity for quick collection and processing for inpatients, particularly in emergency situations.
"Prior to implementing 24/7 inpatient lab services at the in St. Therese - St. Paul Healthcare Centre, we were collecting blood from most emergency patients overnight by using overtime or call backs (of staff)," says Wendy Corbiere, Laboratory Services Director, North Zone. "Since becoming staffed 24/7 we can now collect for both inpatient and emergency patients overnight."
The overnight shift not only works with inpatient and emergency department tests, but also processes routine tests from late in the day that previously had to wait until the morning.
"Because we have coverage on nights, when doctors come in to do rounds in the morning at 7:30 a.m. all the bloodwork is there and ready to go," adds Boire.
Dr. Albert Harmse, St. Paul physician and Associate Zone Medical Director of Area 8 with AHS, agrees.
"The fact that lab results are available in the morning is a game changer," says Dr. Harmse. "We can deal quicker with emergencies in ER and we do not have to keep patients until the morning for certain investigations. We can also deal more effectively with conditions where frequent lab work is essential."
The laboratory continues to offer outpatient collection and testing from 8 a.m.–4 p.m. Monday to Friday as well as mobile blood collection services to local residents who cannot access laboratory collection sites, including to those living at Sunnyside Manor and Extendicare.
"We are committed to meeting local healthcare needs and ensuring that everyone continues to have access to the care they need," says Corbiere.
The new system has also proven a boon for lab staff as it allows them to more efficiently deal with their workflow over three shifts instead of two.
"It's a great balance for staff," says Boire. "They're able to move to nights some of the instrument maintenance that normally happens on day shift, which helps alleviate some of that workflow. It's a very, very busy site."