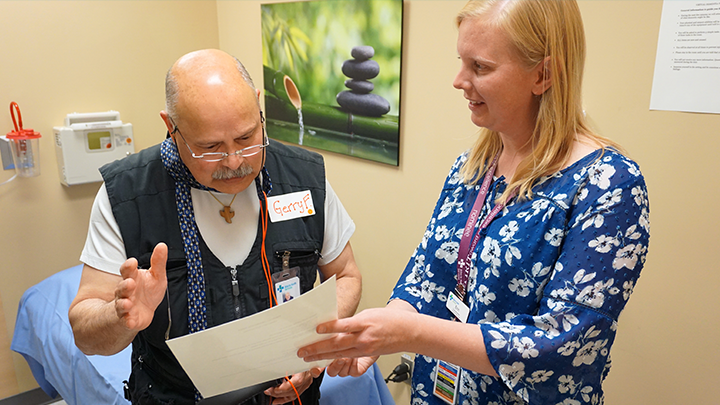 Seniors health team develops course to boost communication skills
Story & photo by Tracy Kennedy
Picture this: You're an AHS volunteer working in a healthcare facility. A patient with Alzheimer's begins to yell and motion to you. It's clear he wants something — but you don't know what.
Fortunately, the Central Zone Seniors Health Rural Clinical Education team has developed a course to help volunteers through such situations. Shared with 53 volunteers across all zones via Telehealth in June, Understanding Responsive Behaviours aims to help decode what a person with dementia is trying to communicate.
"Often our volunteers are called to sit with someone who is agitated, aggressive or experiencing anxiety," says AHS instructor and registered nurse Susan Anning. "This course gives volunteers techniques for addressing the behaviours they're seeing but may not understand."
In addition to learning the basics of dementia, volunteers are taught the importance of understanding the history of a patient or long term care resident — what their vocation or situation was prior to developing dementia — so as to draw on those experiences and engage residents.
Volunteers learn that every behaviour has a meaning, and that they are in a position to understand what the patient is trying to tell them — whether they're experiencing discomfort, pain, hunger, thirst or more.
"We help volunteers use the right words such as, 'Tell me what you're feeling' or, 'Tell me why you're frustrated,' says Anning. "And if residents or patients can't answer, volunteers are empowered to request care staff to assist by asking 'Can I have a cup of tea for this individual because I think they may be thirsty,' or ask if you can take them for a walk in the garden to decrease their anxiety."
In addition to providing theory, the five-hour course includes an opportunity to put oneself into the shoes of residents or patients. Volunteers don noise-cancelling headphones and restricted-vision glasses and are then read a list of tasks to undertake.
Gerry Fitzgerald, who volunteers in palliative care, says it was a difficult but important exercise.
"It was confusing. I couldn't hear a thing. Not too long ago I was in the hospital myself, and I felt the same way, as I came out of surgery: I could hear my wife talking to me but I couldn't understand a word. It made me feel agitated and helpless," says Fitzgerald. "I think I can relate to patients better and have more empathy and understanding now."
For Dennis Burk, who volunteers with the program No One Dies Alone, the course is applicable to volunteering or even one's own family situation.
"It gives a lot of information about how to understand yourself and the frustrations and apply them, so that you have more compassion and patience with yourself and for the person you're helping," says Burk.
Anning says the course, offered to any interested volunteers in Central Zone, is ultimately about valuing the experience of individuals with dementia.
"We really want volunteers to walk alongside them, so they can help them work through the anxiety and frustrations of being in an unfamiliar environment. We can ease patients and residents into that next stage of life with dignity and with respect for who were as an individual before the disease — because that person is still there."