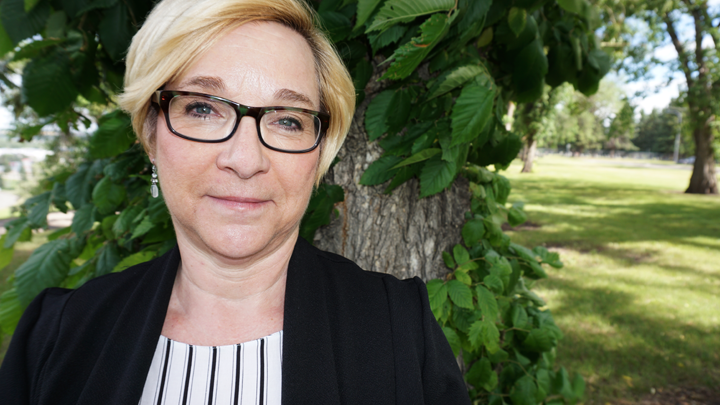 Central Zone's Marlene Young garners Leadership Award from Canadian Association of Staff Physician Recruiters
Story & photo by Tracy Kennedy
RED DEER — Marlene Young knows first-hand that the bond between communities and their local doctors is an emotional one.
"If you want to reach into the hearts of people, talk about their physician services," says Young, AHS Central Zone's Director of Operations, Medical Affairs.
But her work in the recruitment, retention, and workforce planning of physicians focuses on facts along with those feelings. In addition to engaging with leaders, healthcare colleagues and the public about community physician needs, Young knows it's the data that speaks volumes.
It's this strategy, in part, that has earned her a 2018 Leadership Award from the Canadian Association of Staff Physician Recruiters (CASPR).
Peer-nominated and bestowed to one person annually, the Leadership Award requires the recipient to have been a member of CASPR for a minimum of five years; have served as an executive member; have demonstrated commitment and passion for physician attraction, recruitment and retention; and have demonstrated leadership in all aspects of the role.
Young more than meets this criteria.
She and her team have developed profiles of the 31 communities across the Central Zone, taking into account the community's services, demographics and physician complement. This innovation to workforce planning across the zone and province evaluates where and when physicians are needed, so that the right services are in the right place at the right time.
"Often, when we are working with communities and they tell us they're in crisis, this evidence-based approach allows us to clearly evaluate service priorities. It may not necessarily mean a full-time doctor for the community; it might be a specialized doctor who travels to the community providing services closer to home," says Young. "This is innovative in our zone because it's more about retention and ensuring the service delivery and workforce are aligned."
Young and her team also came up with a way to further manage resources by developing a methodology defining four-hour blocks of service. It recognizes that a doctor might be at the hospital in the morning, leaving them only four hours in the afternoon at the clinic to offer primary care. When the numbers were broken down for the first time including clinical care, on-call hours and all the other work physicians undertake, it revealed a clear snapshot of physician services in communities. It also recognized that physicians may adjust their practices as their careers progress and, coupled with service delivery information and population demographics, there was clearer insight into determining physician workforce requirements.
Ultimately this took workforce planning to the next level, provincially and nationally.
Young and her team work with physicians from their first connection to AHS through to their retirement. Physicians have many questions in the recruitment process, often due to the number of hurdles, mounds of paperwork, and possible immigration issues to overcome. Her staff provide consistent support in a recruitment process that can last up to two years.
"And if a doctor becomes discouraged by a lengthy process, we're supporting them so they know they're valued and needed and that once they get there, their new home community is going to be so happy to have them and their families," says Young.
Dr. Dan Edgcumbe, Interim Central Zone Medical Director, says Young's work is essential to communities, and is pleased she's being recognized.
"This award is a testament to Marlene's extraordinary leadership within Central Zone and Alberta Health Services," says Edgcumbe. "She has led exceptional work on workforce planning, recruitment and physician engagement — and we are very lucky to have her."
Young says she's proud and humbled to be recognized for leadership through the award, announced in May — and adds that she's honoured to be recognized by peers who know just how much impact her approach can make across the country.
"When people ask me what I do, I say I may not provide direct patient care, but our team touches every patient across the zone through the hands of the doctors we support."