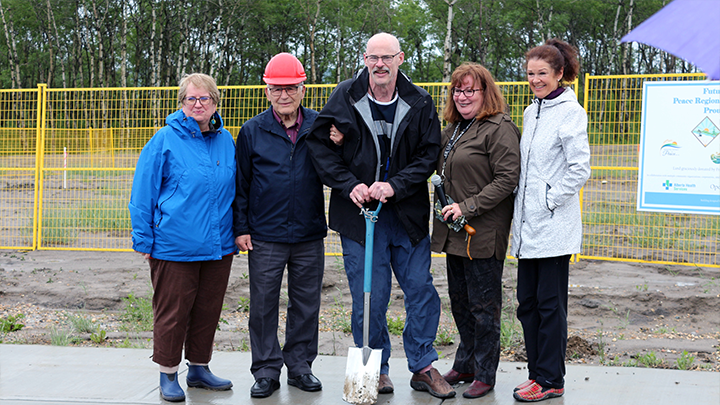 Regional partnerships key to project slated for completion in 2019
Story by Diana Rinne | Photo courtesy Northern Sunrise County
PEACE RIVER — Teamwork lies at the heart of the new integrated Primary Care Centre, currently under construction here.
The project's official kickoff came June 12 with a sod-turning ceremony.
"The fact that we're turning sod for the construction of this centre is the result of true teamwork. We're thrilled to be a part of it," says Sandra Herritt, Alberta Health Services' (AHS) Senior Operating Officer for Areas 1-4, who attended the occasion. "We look forward to providing services here when the building is complete."
The $5M project will improve healthcare in the region for years to come. The project is a regional partnership for the Town of Peace River, Municipal District of Peace, County of Northern Lights and Northern Sunrise County.
Situated near the Peace River Community Health Centre, the new 14,000 sq. ft. Primary Care Centre — with offices for 14 physicians — is being built on land donated by the Lovsins, a local Peace River family.
"Thank you to Sunrise County and all the regional partners who worked together to build this building, including the Town of Peace River, Municipal District of Peace #135, the County of Northern Lights and Obsidian Energy. Your dedication to the people you serve is truly commendable," says Herritt. "As well, thank you to the Lovsin family, to Frank and Agnes, and Dan and Rose, for the generous donation of the land that we're standing on today, the land upon which this exciting new facility will soon stand."
Once it is complete, the building will be sold to AHS for $1 — on the condition that AHS takes ownership of the building and works with local physicians to provide integrated and co-located primary care services to regional residents.
"This Primary Care Centre is based on a care model that has proven extremely successful in other communities in Alberta — and it will be tailor-made to the needs of the Peace River area," adds Herritt.
The facility will provide primary family healthcare programs and services with a focus on Multidisciplinary Care, Seniors Primary Care, Maternal and Child Health Services and Addiction and Mental Health.
This collaborative approach will include physicians, nurses and other healthcare providers, providing services that may include primary care, population and public health services, addiction and mental health services, as well as home care services and nutrition services.
Herritt says the clinic will enhance the care provided not only in Peace River, but also in surrounding Peace Country communities.
Northern Sunrise County is leading the project, expected to be complete in 2019.