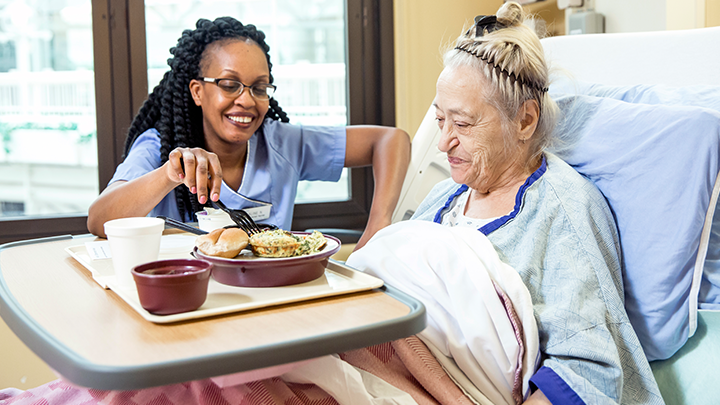 Malnutrition Week highlights how patients can be encouraged to eat
Story by Karolina Sekulic
Canadian Malnutrition Week, which runs Sept. 24–28 this year, emphasizes the importance of food and nutrition in the health of patients.
Research shows that malnutrition is a serious issue — nearly half of patients admitted to hospital are malnourished, and many fail to eat enough while in hospital. That's why addressing malnutrition is an ongoing priority for Alberta Health Services (AHS).
"Improving the meal experience and addressing malnutrition is not a one-person job," says Laura Tkach, Senior Operating Officer, Nutrition, Food, Linen & Environmental Services. "Every bit helps and every bite counts to help patients get the nutrition they need to feel better and heal faster."
This topic is explored in a short video created by Nutrition & Food Services (NFS) — Meals Matter! — which asks patients and healthcare staff just how much their meals mean to them.
In the video, Jessica, a patient advisor, says: "It would be cool if there was a sign that said 'Eating' or 'Do Not Disturb' … something to let people outside the room know that this is my time. I have 30 minutes to eat — and once I am done they can come in."
For Chris, a former patient and current AHS clinician: "The meal means everything — it's part of your treatment plan. It's medicine. It can be a bright spot and may be the only thing that breaks up the monotony of being in the hospital."
There are many steps healthcare staff can take to overcome barriers in hospitals and make meals matter more and be more enjoyable.
While NFS has a major role to play in the prescribing, planning, preparation and delivery of nourishing meals to patients — we all have a part to play to help patients make the most of their meal experience. No role or kindness is too small; getting patients to eat enough can be as simple as giving them encouraging words at mealtime and helping them to open the packages on their meal tray.
For more information, check out the Time To Eat Toolkit — a step-by-step guide on how to reduce barriers and encourage better food intake while in hospital.
In 2017, several units at the University of Alberta Hospital successfully piloted Time to Eat, previously known as Protected Mealtimes. If you'd like to become a mealtime champion on your unit, you can download and discuss the Time to Eat toolkit.
To learn more about malnutrition, healthcare staff can also register for one of five webinars (four in English, one in French) sponsored by the Canadian Malnutrition Task Force.