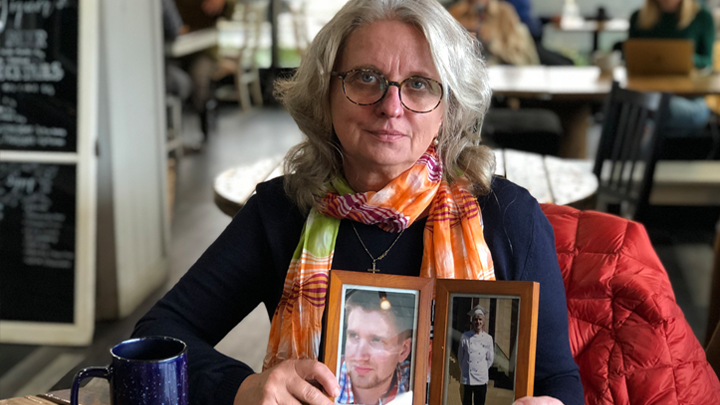 Moms Stop the Harm sponsors free symposium on supporting families affected by opioid crisis
Story & Photo by Marni Kuhlmann
EDMONTON — When Petra Schulz speaks about her son Danny, she smiles. But that smile changes when she thinks about what might have been. Danny died April 30, 2014 from a fentanyl overdose.
It's not a conversation Schulz is ashamed of — in fact, it's one she says more families need to have.
"One of the very, very painful points for me is that neither my husband nor I learned anything about harm reduction before Danny died," says Schulz, a founding member of Moms Stop the Harm.
To start more conversations, the group will play host to an interactive panel discussion — How Can Communities Support Families Affected by the Opioid Crisis? — set for Oct. 4 at the Shaw Conference Centre (Salon 4), 9797 Jasper Ave.
Harm reduction refers to policies and programs that aim to reduce the harm associated with substance use. It's about recognizing addiction as a chronic condition, and meeting individuals "where they are at" since complete abstinence may not be realistic for everyone.
Telling people you lost your 25-year-old son to an opioid overdose generates mixed reactions.
Most people respond with kindness, but there is still some stigma attached to it, says Schulz. It's part of the reason she, along with two other moms, started Moms Stop the Harm.
"To have other people who understand not only what kind of loss it is — but also the trauma you went through prior to the loss — made such a difference," she adds.
Providing non-judgmental support is only part of the work for Moms Stop the Harm.
Many members also focus on advocacy work — bringing a meaningful voice, with lived experience, to the table when seeking solutions to the drug crisis.
Schulz says the community can help too, by understanding and supporting harm reduction.
The conversation around supervised consumption services, Naloxone kits, and telling people not to use substances alone, is sometimes interpreted as one that condones drug use.
In fact, she says it's the opposite. "No. You don't condone drug use, but you don't condone dying. Because in order for a person to recover, or have a chance to recover, you have to keep them alive."
Presenters at the upcoming panel discussion, which runs 7 p.m. to 9 p.m., will include: Schulz; Leslie McBain, co-founder, Moms Stop the Harm; Family Engagement Lead, British Columbia Centre on Substance Use; Katie Mai, Stakeholder Engagement Coordinator, British Columbia Centre on Substance Use; Dr. Rebecca Saah, Assistant Professor, University of Calgary O'Brien Institute for Public Health; and Dr. Hakique Virani, Public Health and Addiction Medicine Specialist; Assistant Clinical Professor, University of Alberta Department of Medicine; Medical Director, Metro City Medical Clinics.
This free symposium is open to the general public, especially those directly affected, but also to professionals who want to learn more about the family experience and how families can be part of the solution.
Speakers will explore harm reduction, treatment options, and the challenges faced by families who have loved ones living with, or who have died from, problematic substance use.
"I'm always open about it, because every person you meet is an opportunity to engage. And to educate," says Schulz.
For free tickets to the event, please visit Eventbrite.