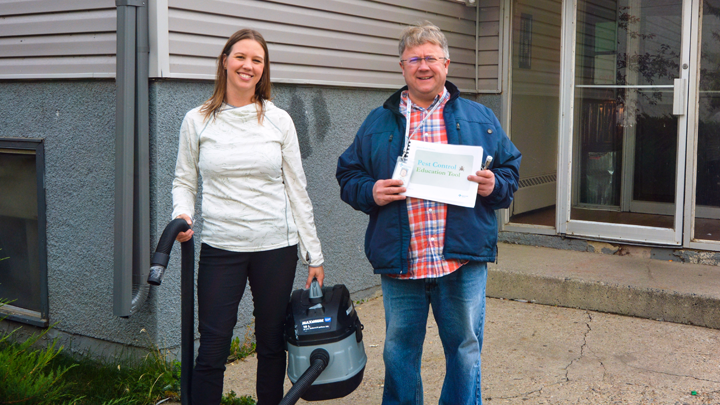 Proactive work of South Zone health inspectors a highlight of Environmental Public Health Week
Story by Sherri Gallant
BROOKS — This is Environmental Public Health Week (Sept. 24-28) — and the Brooks Safe Housing Initiative Program (BSHIP) is a great example of the kind of work EPH inspectors do.
The program shows, too, how these people on the front lines go above and beyond the call of duty to improve the overall living standards and health of residents in their daily work to uphold the Public Health Act.

Brooks is sometimes referred to as "the city of 100 hellos" — a name given it in a 2010 documentary that profiled its large population of immigrants, refugees and temporary foreign workers. Landlords in Brooks (pop. 14,451) often provide housing to new residents, who add new dimensions to the city's cultural diversity.
Different cultural standards, however, also present a number of challenges for tenants who have experienced a variety of living standards in their native countries. Environmental Public Health (EPH) sees these challenges as opportunities to work in collaboration with landlords and tenants to improve things.
"The issues we see in Brooks are not exclusive to that community," says Mike Gervais, a public health inspector and education co-ordinator with EPH in South Zone.
"However, because of the significant cultural diversity of Brooks, our inspectors found communicating with and educating the tenants a challenge. Some of the cultural challenges we have encountered include residents being fearful of reporting issues to landlords or public health, based on their experiences in their home countries. As well, not all residents understand the public health standards and how that impacts other residents in their apartment complex.
"This is why the inspectors in Brooks decided to try a proactive educational approach to help the residents and landlords. In order to prevent little problems from becoming major issues, we started working closely with the managers of larger buildings in Brooks, to have our inspectors conduct proactive inspections of these premises. By inspecting individual units and educating the residents about the potential for negative health outcomes, we're staying ahead of what seemed like never-ending rental issues on the premises.
"In some instances, we've found that tenants are not concerned about housing issues to begin with. They're surprised by what we tell them — and become eager to work with us after we've provided that education."
To date, inspectors have completed 60 inspections of rental units and 20 re-inspections to address a number of concerns and non-compliances with the Housing Regulation and Minimum Housing and Health Standards.
"Inspectors even take their own vacuum cleaners into some apartments so they can show residents how to properly vacuum their mattresses for bedbugs," adds Gervais. "Language is often a barrier, so they call the AHS Language Line to get interpreter assistance when they're there. In addition, a public health student created a flip book with pictures that explains what to do about bedbugs and cockroaches. It's easy to understand no matter what language the tenant speaks."
Public Health Inspector Darrell Prokopishin says some of the work they do regarding pest control can also prevent further infiltration of insects into other places in the community.
"People often don't take simple steps to prevent movement of pests out of the rental dwelling, such as checking/cleaning/vacuuming clothing and bags," he says. "I followed up on a rental unit yesterday that had an extreme bed bug and cockroach infestation. I contacted the Language Line and an interpreter spoke Oromo with the tenant and English to myself.
"Typically I do not sit down, but in this case I inspected a plastic deck chair prior to using it. As we were discussing the issues, I saw a bed bug on the thigh area of my pants. I then explained, through the interpreter, that I would have to inspect/monitor/wash/dry/vacuum my clothing and shoes to ensure I did not spread the infestation to my car/home/public place. I emphasized that the tenant had to do the same in order to not spread the insect in to the community.
"Tenants visit friends who have the problem and then bring the problem with them to public places and to their own homes. Movement and re-introduction is an issue. This week I dealt with a school that had a cockroach dropped off. Last week the same school had a bed bug dropped off. The school is very proactive and staff are experienced in dealing with insects being dropped off. They are seen and removed — with no infestation developing.
"The school was able to provide us with information regarding a family in a rental dwelling, and I went to the unit and saw an extreme cockroach infestation. I worked with the tenant, landlord, school and exterminator, and provided a vacuum to drop the population down in a hurry. I educated the tenant so they would take precautions to not have the cockroaches hitch a ride to school. I contacted a landlord, and they will now be part of the BSHIP."
EPH has also partnered with other agencies to reduce the potential negative health outcomes linked to housing inequities, including the City of Brooks Building Inspection Services and Fire departments; Brooks and County Immigration Services; Brooks Community Adult Learning Council; SPEC Association for Children and Families; and the RCMP.
Gervais says the EPH team is initiating an education component through the Brooks Community Adult Learning Council, to inform newcomers of the Minimum Housing and Health Standards and the need to quickly report safe housing related issues to EPH and their landlords.
Prokopishin says the Minimum Housing and Health Standards are used to address issues like unsafe balcony guardrails, smoke detectors, bathroom exhaust fans, mold, water infiltration, wall/ceiling damage, cleaning, food protection, leaky tub-surrounds, screens, window locks and more.
"We also see where we might have opportunities to help connect some people with other resources in the community while we're working with them," Prokopishin adds. "We haven't done that yet, but if we see an opportunity, we could provide a list of key offices, for example, or information regarding Service Alberta."
Inspector Evelien Meyer says each situation is unique.
"It's quite a mixed bag of what you're going to find," she says. "In the same apartment, we'll see units that are well cared for and have no violations. We'll also find other units that will have recent damages or that have deteriorated over time — things like bathrooms that are water-damaged and rotting, sinks with holes, leaking toilets, windows that aren't weatherproof, missing window locks, damaged kitchen cupboards, non-cleanable kitchen surfaces, fridge or freezer not working. We've found smoke alarms that aren't operational, improperly installed floors, and so on.
"I have also used the Language Line to assist with talking to the tenant about any issues and providing education, and the Education Tool booklet is also really helpful. Our inspections are very thorough and we take our time to explain things to the tenants, trying to educate them to help prevent some of these preventable damages to units and to prevent the spread of pests."
According to the 2016 Canadian Census, 30 per cent of the population of Brooks are immigrants arrived in Canada since 2001, with a large contingent that hails from Africa and Asia. The census also reveals that about 22 per cent of residents speak a non-official language at home, compared with about six per cent of the overall Canadian population. Common languages spoken include: Tagalog, Somali, Oromo, Arabic and Amharic.