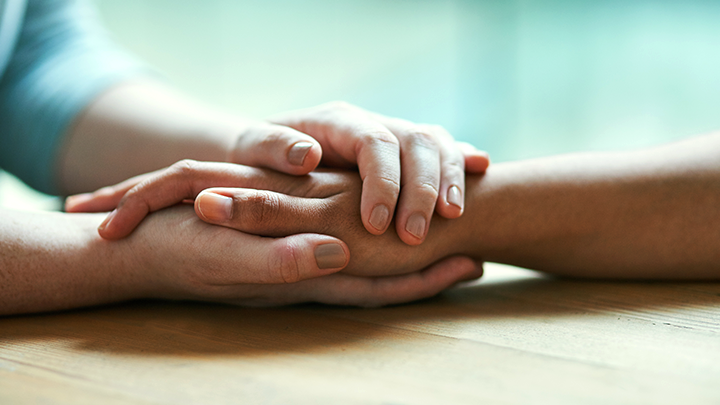 Grande Prairie addictions team averts fatal overdose through fortuitous phone call
Story by Erika Dart
GRANDE PRAIRIE — A routine call to do a check on a potential client suddenly devolved into a life-or-death scenario for the Northern Addictions Centre (NAC) of Alberta Health Services (AHS) here recently.
When admissions secretary Ida Buchberger phoned Chase, a young man with plans to enter an addictions treatment program at the NAC, the routine call shifted into a life-threatening medical emergency.

"His speech wasn't right, and then he just went silent," says Krista Harding, Acting Supervisor of the Residential Treatment Program at the NAC. "Then she heard him mumbling and moaning. Ida said to me, 'There's something wrong, I have a client on the phone and I think he's overdosing.'"
Harding got on the phone and attempted to keep Chase stimulated through conversation while Ida summoned Tara Barkman, an RN at the NAC, who rushed to assist with the situation. With their client becoming more unstable, they knew every minute was critical and that Chase needed urgent medical assistance.
With their client on his cellphone — alone and unable to communicate his current location — his whereabouts were uncertain. All NAC staff had to go on was his home address in Spruce Grove, some 430 km away.
"We needed to call an ambulance — but couldn't really tell them for sure where to go," says Harding.
The team made a snap decision to call Chase's mother and inform her of the situation. Meanwhile, EMS was given Chase's address, in hopes he was home.
While Barkman spoke with the family and EMS, Harding stayed on the phone with Chase. His breathing grew irregular; he sounded to be going in and out of consciousness. Acutely aware of Alberta's current opiate crisis, centre staff knew intervention was likely needed to save his life.
Suddenly, over the phone, Harding heard another voice in the room with Chase. It turned out to be Chase's girlfriend — alerted of the crisis by Chase's mother — who had rushed over to check on her partner.
"She was saying, 'he's blue, he's foaming at the mouth, I don't know what to do,'" says Harding. Barkman took the phone and guided the girlfriend to administer Naloxone and perform CPR on Chase. As she delivered chest compressions, the staff heard EMS arrive on the scene and, following further Naloxone treatment, he was stabilized and taken to hospital.
Back in Grande Prairie, with the situation safely defused, NAC staff members debriefed and discussed what had just happened
"In the moment it seemed straightforward, we did what we needed to get help the help he needed. But looking back it was very scary," says Harding. "And we didn't know what happened after the ambulance took him away."
Thankfully, Chase's mother telephoned the NAC shortly afterwards to tell them her son was OK — and would be discharged from the hospital later that day. The mother shared that this was not Chase's first opiate overdose — and how she was understandably terrified and desperate to get her son the help he needs.
Since his application for treatment at NAC had already been partially processed, staff members worked together to admit Chase that very day to the NAC detox facility in Grande Prairie for safekeeping. His treatment program would begin once he was medically and emotionally stable. Chase's family eagerly jumped at this opportunity — and drove the four-and-a-half hours to Grande Prairie to get him admitted for care that evening.
Harding reflects: "At noon that day Chase was an unresponsive patient getting chest compressions just to keep him alive — and at by 7:30 that evening we were able to admit him to our program here in Grande Prairie."
Chase, 27, has since completed the 21-day Residential Treatment Program. He's now back home in Spruce Grove.
"I would have died," he says, if Ida hadn't called when she did. "There's no doubt about it — I wouldn't be alive."
As he tells it, he first got into drugs in high school — and soon found himself hooked. Despite several attempts, he couldn't rid himself of his addiction.
Chase says he's grateful to the NAC team for saving his life: "They're awesome people. They really care."
His arrival proved a meaningful and emotional event when Harding, Barkman and Buchberger connected with him in person at the NAC.
"It was very special for me to be able to meet Chase and see him alive and well that same day. I was very thankful to see him alive," says Barkman.
Chase says he believes the NAC treatment program is making a huge difference in his life. "I'm still super early in my recovery but it's definitely put me in the right direction," he says. "I want to have a life now. I didn't really before."
Life is also looking very different to him today than it did before his overdose. "I'm back home, I've gotten a job," he says. "I've been going to meetings and I have a sponsor here in town."
His advice for others fighting the addiction battle is simple: Don't give up.
"I had used up all my nine lives, but somehow I'm still here," he adds. "No matter how depressed or down you are, at the end of the tunnel there's always a little bit of light."
If you or someone you know needs help, the Addiction Helpline (1-866-332-2322) operates 24/7 for all Albertans. Questions? Visit Addiction & Mental Health.