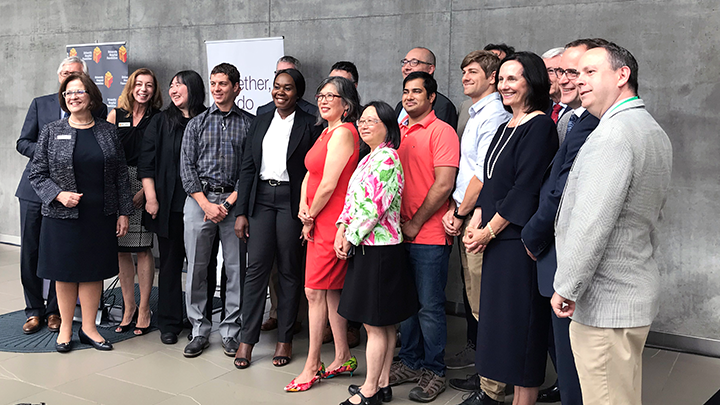 Seven recipients share nearly $700,000 in newly established Kaye Fund Competition
Story & photo by Amelia Schofield
EDMONTON — Donald Kaye's transformational $30-million gift to the University Hospital Foundation continues to advance patient care through his support for research, education and innovation.
With the recent announcement of seven recipients of the inaugural University Hospital Foundation Kaye Fund Competition, his vision to transform patient care today and tomorrow is becoming a reality.
A range of research projects and quality improvement initiatives, chosen through a rigorous review process, were awarded nearly $700,000.
Jim Brown, Chair of the University Hospital Foundation Board of Trustees, says he believes the competition is a prime example of how Kaye's gift continues to push research forward.
"Donald Kaye's donation, the single largest gift ever given to healthcare in Alberta, has inspired researchers to look further and deeper than ever before to find cures and new treatments for some of our most challenging health conditions," he says.
The competition is also an important opportunity for partnership and collaboration, says Cathy Osborne, Senior Operating Officer of the University of Alberta Hospital, Mazankowski Alberta Heart Institute and Kaye Edmonton Clinic.
"The Kaye Fund Competition is possible not only because of the generosity of Mr. Kaye, but also thanks to the collaboration between the University Hospital Foundation, the University of Alberta Hospital site, and Alberta Health Services Innovation and Research Management."
The inaugural recipients submitted a wide variety of projects, including:
Stereopsis as a visual biomarker for Parkinson's Disease
Tracking C. difficile infections
Establishing a multidisciplinary kidney stone clinic — a pilot project
Improving the management of prostate cancer
Bright light therapy for persons with Parkinson's disease who suffer from excessive daytime sleepiness
Renal replacement therapy
Imaging of prostate cancer
At the Kaye Fund Competition Announcement event held on July 4, Dr. Brendon Parsons and Dr. Linda Chui gave interviews on their project, which focuses on an innovative, rapid and cost-effective method of testing and tracking C. difficile infections in real time. The funds received through the competition will allow them to test this method for clinical use.
"Our research project is designed to improve techniques to be able to track outbreaks in real time with the goal of preventing further infection spreads in hospital," says Dr. Parsons.

The new technique they're testing promises to support timelier reporting of outbreaks and halt the spread of C. difficile infections in hospital.
Through the annual Kaye Fund Competition's support of research, innovation and quality improvement, Kaye's gift will leave a legacy on patient care for years to come.
If you would like more information on how to support the University Hospital Foundation, please visit givetouhf.ca.
Visit ahs.ca/give for a full list of Alberta's health foundations.