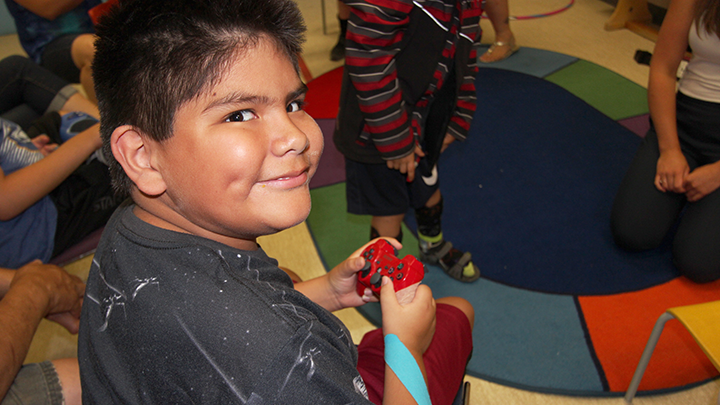 Kids get help to strengthen limbs weakened by cerebral palsy
Story & photo by Sherri Gallant
LETHBRIDGE — Riding a bike, zipping a jacket or going to the bathroom are two-handed activities many of us take for granted.
That's not the case for children with cerebral palsy who have hemiparesis, which means one hand is weaker than the other. If left untreated, these children don't use the weaker hand, become dependent on others for day-to-day activities, and may struggle with their self-esteem.
But a special summer camp recently helped several South Zone children improve the use of their weaker hands, says Colleen Lane, an occupational therapist with Alberta Health Services (AHS).
"Our youngest camper found the hard work of opening and closing her 'righty' hand gave way to the enjoyment of dropping gems into a fish bowl," says Lane.
Lane organized the free, three-week constraint induced movement therapy (CIMT) camp for six children, aged 4 to 14, at Audiology and Children's Allied Health Services at Lethbridge Centre.
According to MyHealth.Alberta, cerebral palsy involves problems that affect body movement and posture. It's related to a brain injury or problems with brain development that occur during pregnancy or birth or within the first two to three years of a child's life. It causes uncontrollable reflex movements and muscle tightness that may affect parts or all of the body. Cerebral palsy affects more than two of every 1,000 live births; of those, one third experience hemiparesis.
CIMT involves restraining the stronger hand while practising activities to improve use of the weaker hand. For these children, the weak signal from the hand to the brain grows stronger with continual use, a process referred to as neuroplasticity.
"Goals set by the parents and children this year included climbing monkey bars, pulling up pants, cutting paper and pouring pop," says Lane, who's been running CIMT camps since 2014.
For the first two weeks, the children had a cast placed on their stronger hand to help them focus on using the weaker one. Sessions typically included handling food and beverages at lunchtime, 'Storytime with Speech,' and individual or group activities.
For the third week, the casts were removed and the children teamed up with therapists to learn how to use two hands in outdoor play. With all hands on deck, so to speak, the children developed the skills needed to swing a bat, grasp playground climbers and squirt a water gun.
"We were all soaked by the end," says Lane, laughing.
Dressing skills are also a common goal for this group. In order to break the routine of what one therapist calls mom-pulls-on-the-pants-cuz-it's-easier, the therapists demonstrated how to use hula-hoops, transfer belts and elastic resistance bands for practice. All children learned to successfully pull up their pants.
"Who here can pull on pants by themselves?" Lane asked on awards day, the last day of camp. To a chorus of 'hurrays' and 'yays', every child beamed and yelled, "ME!" as they pumped fists in the air, adds Lane.
It isn't just the kids who gain from the camp. Lane says it has positively influenced parents, as well.
"Therapy for children with hemiparetic cerebral palsy is a lifelong commitment," Lane says, recalling one child who initially didn't want his parents involved in therapy.
"But when the family was challenged with tailoring a home program, they created a father-son exercise time where the child had to use 'lefty,' his weaker hand."
Mark Moland, manager of Audiology and Children's Allied Health, adds that it's wonderful to see the children succeed and form friendships.
"The families are connected, and the kids connect with one another while they're here," he says. "There are so many other things that we don't evaluate that benefit the social aspect for these kids."
In fact, two of the boys live in Taber, but had never met until this year's camp. They formed an instant connection.
"They were a perfect match!" says Lane. "They looked like twins — and were buddies from the start!"
Beyond the new friendships, the physical successes also raised young spirits. At the end of the three weeks, one child noted that his hands now appeared "just like the other kids."
Meanwhile, parents are already thinking about next year.
"We have three children who have been in the camp before," says Lane. "They continue to gain with each successive camp."
For more information about CIMT in the South Zone, call 403-388-6575.