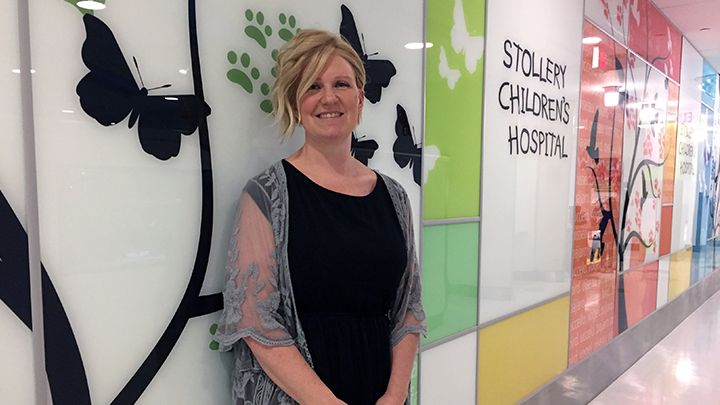 Amanda Jober inspires compassion, love and support for children in her care
Story & photo by Vanessa Gomez
EDMONTON — Registered Nurse Amanda Jober's relentless fight for children who live with Cystic Fibrosis has won an Outstanding Healthcare Provider Award from Cystic Fibrosis Canada — an honour she says only motivates her more to go above and beyond for her patients.
"I really love what I do," says Jober, who works in the Cystic Fibrosis (CF) Clinic at Stollery Children's Hospital. "I love helping families and making things easier for them."
As one of five winners for Western Canada and Prairies Region, Jober invests herself in her patients' lives beyond the hospital and rejoices in their academic success and other accomplishments. She also comforts children as they brave unpredictable and sometimes scary changes. With the help of the CF dietitian, she sewed a G-tube — a gastronomy feeding tube — into a doll to help quell the fears of a young patient as she prepped for surgery.
"I want kids to know that CF does not define you. You're a person with CF — and we're going to help you manage that so you can lead a normal life," says Jober.
As she fosters close relationships with her patients, she also puts her grant-writing skills to use to gather more support for CF care at the Stollery. After writing several grants to build a playground in her neighbourhood, Jober began writing a grant to purchase steam sterilizers for CF equipment.
With the help of CF Canada and Air Canada, 30 steam sterilizers were bought for patients to take home for their own personal use, which helps to minimize infections.
Sandy Stevens and her daughter, Laura, have nothing but praise for Jober, who has accompanied Laura on her CF journey for about four years, so far.
To express their gratitude, they nominated her for the Outstanding Healthcare Provider Award.

"Laura's journey has been rocky, but Amanda has been there through the worst of it," says Sandy. "She immediately came in and said 'What can I do for you? I am here for you.'"
Laura, now 12, values Jober's advice, and often asks: 'What does Amanda think?'
"As parents, we go through so much fear and worry and we are supposed to be strong for our kids," says Sandy, "but (Jober) gives us a break and tells us it's OK. She's my rock."
As the busy Jober juggles her Cystic Fibrosis work with the demands of raising her own family, her commitment to bettering the lives of children with CF remains strong.
"The kids are so honest, real and strong," says Jober. "I just hope they know there's a team that's fighting for them just as much as they're fighting for themselves."