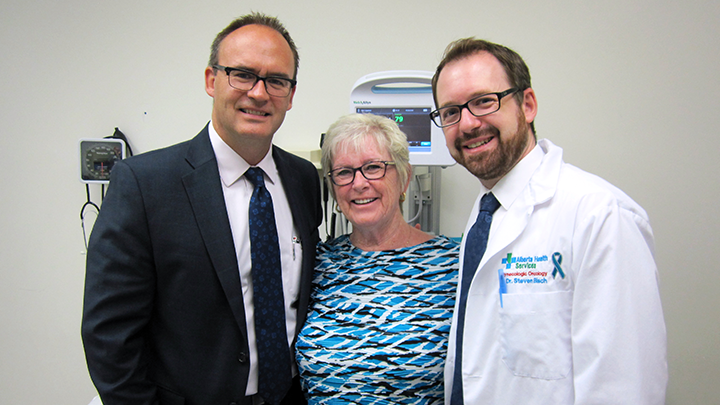 Enhanced Recovery after Surgery guidelines improving outcomes for women with gynecological cancers
Story & photo by Greg Harris
Alberta Health Services' efforts to get patients back on their feet and back home sooner following surgery continue to earn high marks from patients and researchers alike.
Enhanced Recovery after Surgery (ERAS) measures have now been implemented provincewide for women with gynecological cancers, which is the latest patient group to benefit. They join a list that includes patients undergoing surgeries for colorectal cancer, breast reconstruction, head and neck cancer, and pancreatic cancer.
As with the other groups, surgery patients with gynecological cancers report they feel better when ERAS measures are used.
"My recovery after the latest surgery was amazing," Calgarian Jeanne Place says of her 2017 operation for ovarian cancer. "I ate the night before and then had supper after the surgery. I felt really good; I was physically and mentally better."
Her experience with a similar surgery back in 2012, however, wasn't nearly as positive without the ERAS measures being used. She was required to fast the night before and the first meals during her recovery were deliberately delayed.
"I found it extremely frustrating not being able to eat," she says. "How can you get any better if you don't have any energy?"
Dr. Gregg Nelson was Place's surgeon in both instances. He is also the Co-Chair of ERAS Alberta, together with Dr. Leah Gramlich of Edmonton, and the secretary of the Executive Committee of the international ERAS Society.
"Healthcare providers traditionally focus on clinical outcomes, such as length of stay in the hospital, the development of complications, and cost savings," Dr. Nelson says. "But at the end of the day, this is really about patients and their level of satisfaction with ERAS surgeries. Like Jeanne, most people say they feel really good."
ERAS guidelines consist of about 20 different practices before, during and after surgery, which Dr. Nelson says challenge some long-held assumptions that weren't well-supported by evidence.
Aside from keeping patients well-nourished, guidelines include avoiding cold in the operating room and avoiding the use of long-acting sedatives.
Before surgery, patients are given anti-coagulants and pre-operative antibiotics. Afterwards they receive non-opioid pain medications and anti-nauseants. During recovery, patients are encouraged to eat, drink and move right away.
Dr. Steven Bisch, the lead author of a recent paper that assessed the impact of introducing ERAS guidelines to this particular patient group, says the evidence is unequivocal — ERAS is good for patients and good for the health system.
"Overall, we found that the length of hospital stay in ERAS surgeries fell from a median of four days to three," says Dr. Bisch. "When we examined the most complex surgical group, we found there was a reduction in length of stay from five days to three."
Researchers also reported that ERAS guidelines led to faster time to adequate pain control, faster time to tolerance of solid food, a decrease in IV fluid administration, and a reduction in complications. Because of shortened length-of-stays for the 367 patients included in the study, the health system saved an estimated $350,000, the paper says.
"The cost savings we estimated are quite conservative," adds Dr. Bisch. "We expect this will continue to save money year after year, probably in larger amounts. Healthcare money is a finite resource and it's important that tax dollars are spent responsibly while still providing the best possible care."
From Place's perspective, it's hard to put a price on being able to leave the hospital and get back into your own home sooner.
"With the ERAS surgery I was ready to go home quicker," she says. "I felt confident that I could go home and care for myself."
The research findings were first published in the online edition of the journal, Gynecologic Oncology, and more recently in its print edition. The paper, which lists 15 authors, is titled: Enhanced Recovery After Surgery (ERAS) in gynecologic oncology: System-wide implementation and audit leads to improved value and patient outcomes. Dr. Nelson is senior author and project lead for the study.