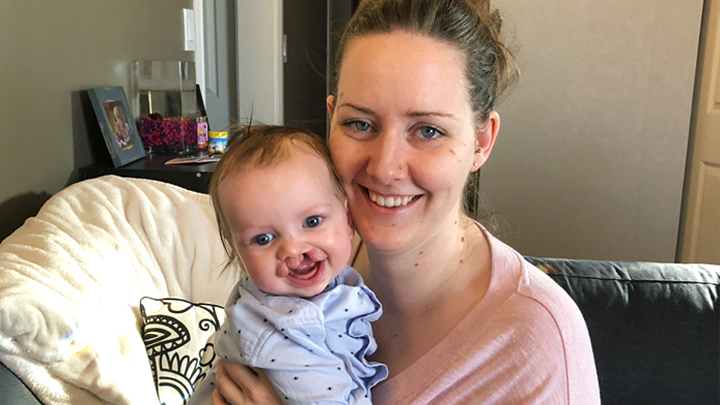 Remote moms receive guidance, encouragement from lactation team in Grande Prairie
Story by Patricia Nordstrom & Amy Crofts
For Jessica Trinder — with two children under the age of four, and now a newborn — driving over an hour in the winter to a public health clinic was not really an option.
Initially, she had planned to exclusively breastfeed her new baby. However, her son Nicholas was born with a bilateral cleft lip and cleft palate, which presented difficulties.

With many questions and her goal still in mind, Trinder called the Breastfeeding Clinic at Grande Prairie Public Health in November 2017.
"With three kids under the age of four, and frequent travel to Edmonton for medical appointments from Valleyview, which is over three-and-a-half hours away, we needed to figure out a way to support Jessica without having her come into the clinic," says Barbara Paton, a Public Health Nurse and Lactation Consultant in Grande Prairie.
Paton kept in touch with Trinder over the next two-and-a-half months via phone and email. They talked about how to monitor Trinder's milk supply, manage bottle feeds and baby's expected growth.
"Jessica breastfed her first two children for 15 months and 22 months respectively, so many of our discussions were around reframing what breastfeeding would look like with this baby," says Paton.
Some infants with cleft lips and/or cleft palate have difficulty breastfeeding because they are unable to suction properly. Trinder had to exclusively pump in order to provide Nicholas with breast milk.
They also talked about how Trinder was managing to live in a remote community with limited access to certain specialty services. Paton referred mom and baby to local supports, all the while never having met in person.
In early July, Paton received an email from Trinder: "Nicholas is almost eight months old now. He is healthy and so happy. I am pumping five times a day and making about 40 ounces (of milk) a day. He weighs 16 pounds!
"I know 100-per-cent that I would not have been this successful without your help and support. I appreciate you more than I can say."
Nicholas received his lip-repair surgery this past April, followed by palate repair in September. With the exception of one day of formula supplementation, he's been fed only breastmilk. Trinder hopes to keep him on breastmilk until he's at least 18 months.
"I am so thankful for Barb's support. She's so passionate about breastfeeding," adds Trinder. "We need more nurses like her in the world."
This year, National Breastfeeding Week runs Oct. 1 to 7.
Grande Prairie Public Health has offered a Breastfeeding Clinic since 2005, serving patients from Valleyview to High Prairie, High Level and surrounding communities. Typically patients book one hour, in-person appointments.
"New moms and babes can benefit from support to reach their own breastfeeding goals," says Patricia Nordstrom, Grande Prairie Public Health Manager.
"Regardless of where they are, be it in town or in a remote area of northwestern Alberta, we invite families to connect with our Breastfeeding Clinic team. We offer breastfeeding support through any means possible and what is easiest for our patients."
For information or to book an appointment in the Breastfeeding Clinic, please call Grande Prairie Public Health at 780-513-7500 or see the AHS website.