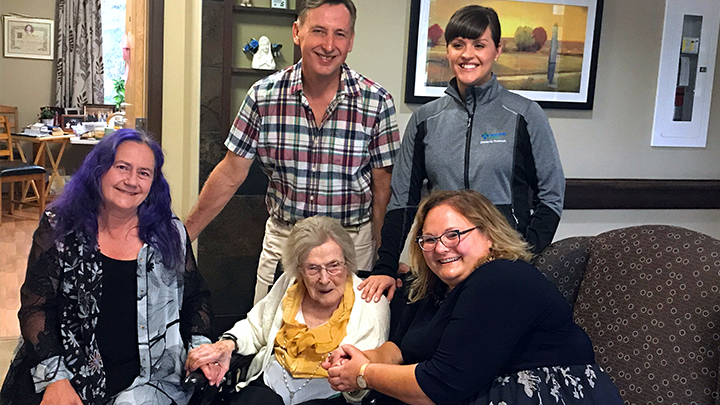 Anne, 98, loves the idea that hospital-quality care comes right to her home
Story & photo by Diana Rinne
PEACE RIVER — Anne Kuran, 98, couldn't help but smile as she held the hand of Sarah Hoffman, Alberta's Health Minister, when she dropped by to visit her recently at Points West Living.
"You have warm hands," said the 98-year-old, who then glanced at her son, John, and added with a laugh: "His hands are ice cold!"
The health minister took the opportunity to visit with Anne and her son on Aug. 23, where she heard how Alberta Health Services' Community Paramedic Program is making a positive difference in Anne's life.
"I can't say enough about this program," says John Kuran. "It's amazing."
Expanded to Peace River in March, the provincial EMS Mobile Integrated Healthcare (MIH) program is designed to improve access to medical care for seniors, vulnerable and mobility-challenged people who require non-emergency medical attention. The program specializes in managing urgent and primary care events — and bringing hospital care into the home.
For two-and-a-half years prior to the program's launch here, Anne had to go to the Peace River Community Health Centre bi-weekly to receive her medication via IV drip for congestive heart failure.
Getting her to the hospital and having to wait, at times, for hours proved difficult, particularly in the winter months, adds John.
Since April, Anne has been receiving visits every two weeks from Peace River Community Paramedic Tyne Lunn, who administers the medication to Anne right in her home at Points West Living.
"Every two weeks on the Monday morning I have a date with Anne," says a smiling Lunn, who serves the area within a 50 km radius of Peace River.
Since the end of March, Lunn has supported just under 100 calls in Peace River, working Monday to Friday from 9 a.m. to 5:30 p.m. Recruitment is underway for a second Community Paramedic position in Peace River, with plans to extend the service to operate seven days a week from 7 a.m. to 7 p.m.
The Community Paramedic model helps AHS use resources more appropriately by connecting patients with the right resource, in the right place, based on their individual care needs.
"The really great thing about this is that it is customizable for the patient," says Lunn. "We have a wonderful hospital system, but sometimes people don't really need to go to the hospital."
For patients such as Anne, the service is about much more than just physical health.
"It's better to stay here (at home)," she says, "It keeps me happy."
"I think that's one of the nice things about the Community Paramedic Program, is that they get to build these relationships," says Minister Hoffman.
Lunn agrees. "You're not always just rushing into emergencies. You get to take the time. I spend about 30 minutes doing the procedure and then I spend a bit of time visiting with her and giving her some company that day. It's lovely, it's a very, very fulfilling role."
Lunn has gone above and beyond in her role with Anne, taking personal time to visit, give her a manicure and paint her nails after Anne commented how nice Lunn's nails were.
For John, the program relieves the stress of making sure his mother gets her medication, and also brings the peace of mind of knowing she's getting the care that she needs in a caring, compassionate way.
"It really is an amazing program," he says again.
For more information on the AHS Community Paramedic Program, please visit our website.