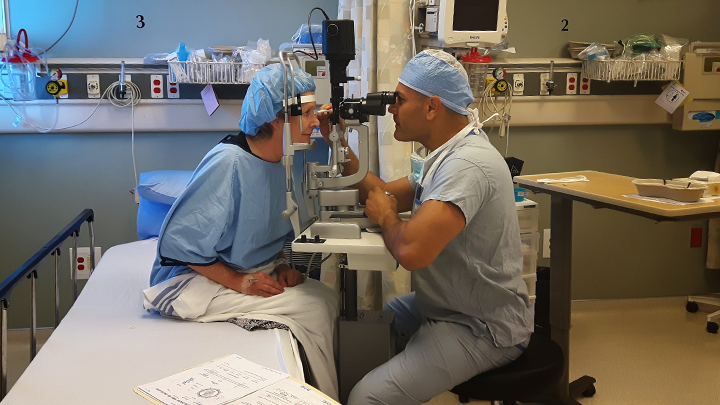 New slit lamp aids precision placement of replacement lens
Story by Vanessa Gomez | Photo by Sharlaine Letourneau
STONY PLAIN — Eye care here has come into sharper focus with the addition of a brand-new slit lamp for the operating room at WestView Health Centre, which performed some 1,500 cataract surgeries in 2017.
The new instrument allows for greater precision in the fit and placement of replacement lens within the eye. The lamp's accuracy also affords patients a wider selection of these so-called intraocular lenses, commonly used to treat cataracts, with the promise of excellent vision after surgery.
While WestView does have an older slit lamp, it's typically been wheeled back and forth, and shared, by the OR and emergency department — which created delays for patients and tended to reduce nursing time and resources for other patients.
Today, with having the new lamp dedicated to the OR, the wear and tear on both lamps is kept to a minimum, as WestView continues to serve its patients in the tri-community area of Stony Plain, Spruce Grove and Parkland County.
"Having the new slit lamp in the OR makes things much easier. We now have easy access to ensure the care we're providing is at its best," says Dr. Kam Kassiri, eye physician and surgeon.
The instrument was funded by the WinWin 50 Staff Lottery, in which AHS staff subscribers can direct proceeds to the foundation of their choice — in this instance, to the Tri-Community Health and Wellness Foundation, which supports WestView and the region.
"The new slit lamp was one of our main priorities," says Shandi Saito, Executive Director of the foundation. "Without the generosity of staff at WestView, we wouldn't have been able to purchase the lamp."
Dr. Kassiri adds: "The Stony Plain OR has come a long way in providing care, We're no longer restricted in the types of lenses we can use — and we're on par with other surgical centres."