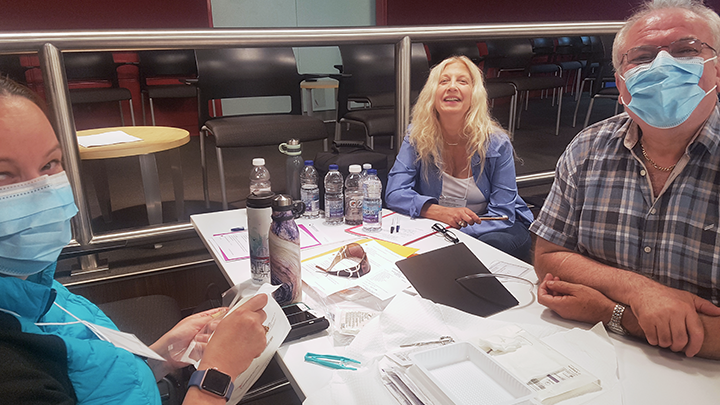 Mazankowski Alberta Heart Institute marks its first Ventricular Assist Device education day for patients and family
Story by Vanessa Gomez | Photo by Osiris Zelaya
EDMONTON — Dave Doyle first felt something wasn't quite right with his heart in 2005.
He and his wife Amber soon embarked on an odyssey of uncertainties — through multiple tests and surgeries at the Mazankowski Alberta Heart Institute — as doctors searched for answers to his deteriorating health.
"It was quite hard," says Amber. "Everything just happened at once and there was no time to grasp anything."
Dave's multidisciplinary team at the Maz ultimately determined he required a ventricular assist device (VAD) — which he received on May 28, 2018 — to help his heart ensure a healthy blood flow throughout his body.

The VAD is a mechanical circulatory device attached to the heart that helps a failing ventricle pump blood through the body. The VAD is attached to an external battery unit that patients wear around their waist 24/7.
Dave says he's still getting used to the lifestyle changes that come with having a VAD.
"It's a process that we've accepted and it will take some time to get back to normal," says Dave. "We're still learning and we just hope to get better."
The VAD team at the Maz is working to provide more information for VAD patients to help them adjust to their new life.
On July 16, the institute marked its very first Patient & Family VAD education day, a full day of educational sessions and hands-on experience designed to highlight innovation and make self-care easier for VAD patients. The event was a success, with 48 people in attendance, including patients and caregivers.
"The VAD population is unique and has grown over the years," says Osiris Zelaya, a senior consultant in the VAD & Extracorporeal Membrane Oxygenation (ECMO) Program, Cardiac Sciences. "A lot of information is provided as an inpatient, but once they become an outpatient, their perspective completely changes."
In 2009, only five patients in Alberta had a VAD inserted, but that number has grown to 50 in recent years. While this population is considered relatively small in Canada, Zelaya says there's a need for outside support.
"There's a gap in the community because this is a new technology with different rules and it's not well known," says Zelaya.
Ongoing education is key to ensuring that patients and their families have the information they require to care for themselves while in the community.

The educational sessions offered on Patient and Family VAD Education Day included how to maintain a heart-healthy diet, strategies to support self-care, and travelling and driving with the device. A hands-on session with a new wound-dressing kit also gave patients a glimpse at advances designed to make their wound care easier.
In a survey done by participants, feedback was, overall, very positive, with patients appreciating the networking opportunity, the valuable educational sessions and the supportive community they created.
VAD team members say they hope to make the day an annual event and hope to explore more challenging topics such as how to exercise appropriately when fitted with a VAD.
"This is a great way for patients to get together to network and create their own support system," adds Zelaya. "This day focuses on them — and empowers them to take ownership and control of their health."