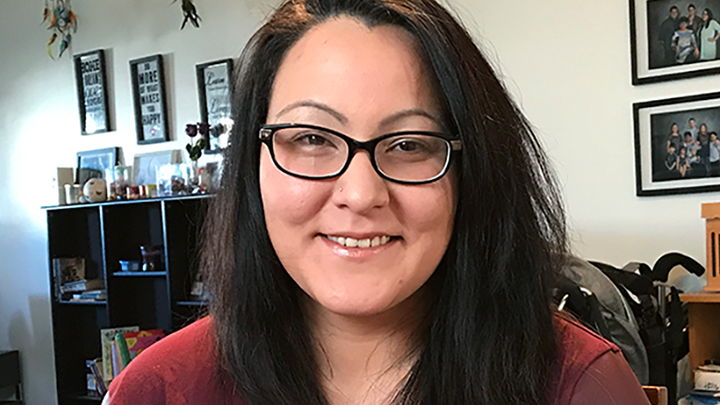 Young mother steps up to share her victory story for National Addictions Awareness Week
Story & photo by Diana Rinne
GRANDE PRAIRIE — 'Desperation' is the word Terri-Lynn Badger uses to describe what it took for her to get clean and stay that way.
During National Addictions Awareness Week, which runs Nov. 26 to Dec. 1, she'll be stepping up to the podium to share the story of her rocky and emotional journey to sobriety during Grande Prairie's annual Walk for Sobriety/Walk the Red Road on Dec. 1.
Today, at the age of 30, Badger can proudly say she's been clean for 22 months.
"Getting drugs, using drugs and finding ways and means to get more drugs — that was my purpose every day for so many years of my life," she says. "Into my addiction, I wanted to get out, but I didn't know how. (I thought to myself) … you've created such a mess of your life, you don't even know where to start."
Born and raised in Whitecourt, at a young age Badger first became addicted to alcohol, later turning to meth as she tried to deal with issues like being sexually abused at a young age.
"I learned to keep everything inside. I was always angry and hated myself for something that was not my fault," she says. "I didn't know how to properly express my emotions as a teenager."
A mother of two at the time, Badger "lost the privilege" of raising her kids.
"I didn't know what else to be besides a mother — and I fell deeper into my addiction," she adds, also recalling how the death of her grandmother and the violent demise of an uncle threw her deeper into a downward spiral.
One wintry night, Badger hit rock bottom, alone in the stairwell of an apartment building. After years without contact, she texted her mother in Grande Prairie — and told her the truth about what her life had become.
"I was ready," she says. "I'd been screaming on the inside for help, but not knowing what to do or how to begin fixing the chaos."
Ironically, in her bid to get clean, it was her drug dealer who gave Badger the cash for a bus ticket to Grande Prairie.
"I got to GP on the bus, got to my mom's and was trying to get into detox — but all the beds were full. So I ended up just detoxing in her apartment on her loveseat."
After detox, Badger participated in Rising Above, a local residential treatment program, followed by the 21-day program at Alberta Health Services Northern Addictions Centre.
Despite her best efforts, Badger relapsed a few times on her wellness journey.
"Instantly, my misery of addiction was refunded to me," she adds. "Thankfully, the staff had seen something in me that I didn't yet see in myself — and they didn't give up on me. I'm very lucky to be alive today … some people are not so lucky."
For Badger, key to her recovery was finding a spiritual connection with a power greater than herself.
"I was an incomplete puzzle with one piece missing. I tried all my life to fill that empty hole with the wrong pieces — alcohol, drug use, selling drugs, boyfriends, gambling, and all that.
"But every time I would try to stuff the wrong piece into that puzzle, the entire thing would crumble and fall to pieces. I didn't know at that time that the missing piece was a loving God of understanding. The only piece that fit."
Coming up on two years of being clean, Badger keeps herself busy mothering her eight-month old son. She's looking forward to going back to hair school to finish her education to begin a trade in early 2019.
"Today, I get to be a daughter, a sister, a mother and a friend," she says. "My mission is to carry a message of hope that an addict — any addict — can lose the obsession to use drugs.
"It's a lifelong journey called recovery — and I'm in love with it and in love with myself today."
Badger will speak at the Walk for Sobriety/Walking the Red Road in Grande Prairie, Dec. 1 as part of National Addictions Awareness Week. The event begins at The Salvation Army (9615 102 St.) with an open house from 1-3 p.m. The walk itself starts at 3:30 p.m. from The Salvation Army to the Grande Prairie Friendship Centre, 10507 98 Ave., where an Indigenous pipe ceremony, feast and round dance will follow.