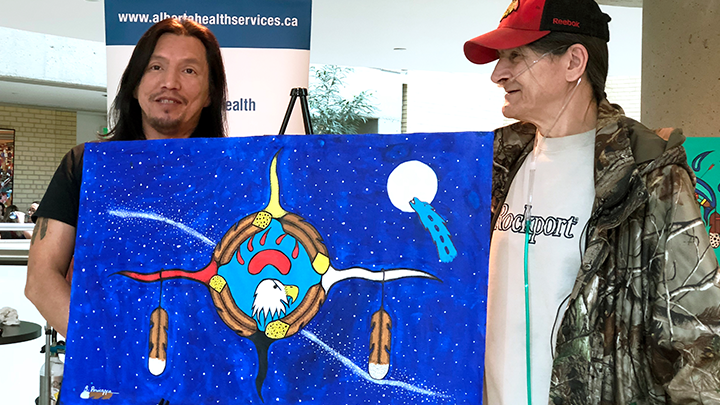 Royal Alex patient shares his artistic gifts to promote healing and heritage
Story and photo by Vanessa Gomez
EDMONTON — Brad Ponicappo has been painting for 25 years. Despite not being able to draw so much as a circle before his journey into painting, Ponicappo believes his talent is "a gift from the Creator" that was given to him during a difficult time in his life.
The humble, soft-spoken artist, 56, shared his gift with the community at an exhibition of his work, The Art of Healing, held Oct. 2 at the Royal Alexandra Hospital (RAH).
After a lengthy eight-week stay at the RAH, Ponicappo says his art helped him cope with the isolation and loneliness he felt while being away from home.
"It takes my mind off of things and hopefully gives other people something to look at when they need a distraction," he says.
One of the things that has haunted Ponicappo occurred when he was 10. He was taken away to residential school where he witnessed the loss of many young friends to suicide — as he experienced a painful separation from his family and heritage.
His paintings, rich with Indigenous symbols and art, have brought him closer to his heritage and, he hopes, will inspire others to reconnect like he did.
"Just exploring the ideas of what you're going to put on the canvas takes you to a lot of different places and brings you back when you're thinking of your culture," adds Ponicappo.
The Rehabilitation Services at the RAH helped fund his art supplies while Recreational Therapist Chloe Hodgson helped him set goals to develop his creative potential.
Hodgson worked with Ponicappo to identify three goals: Continue to use art as a way to cope; engage in art as a vocational activity; and showcase his art on a wider platform.
"Leisure activities are such an important part of people's lives outside the hospital — and maintaining some of those activities gives patients a sense of normalcy during a difficult time," says Hodgson. "It can also play a huge role in facilitating re-entry into the community to ensure success."
Ponicappo says he hopes to have his art showcased in a gallery, as he looks to mentor young artists as well.
"Being in a hospital is not an easy environment. There's a lot to be said about the mind and body connection," says Hodgson. "If in some small way we can make a difference in their day-to-day life and raise their spirits a little bit, they might be more inclined to engage in other rehab interventions."
Ponicappo has donated a piece to the RAH Supervised Consumption site to inspire others to heal and reconnect with their heritage.
To inquire about purchasing artwork by Ponicappo, please contact: chloe.hodgson@ahs.ca.