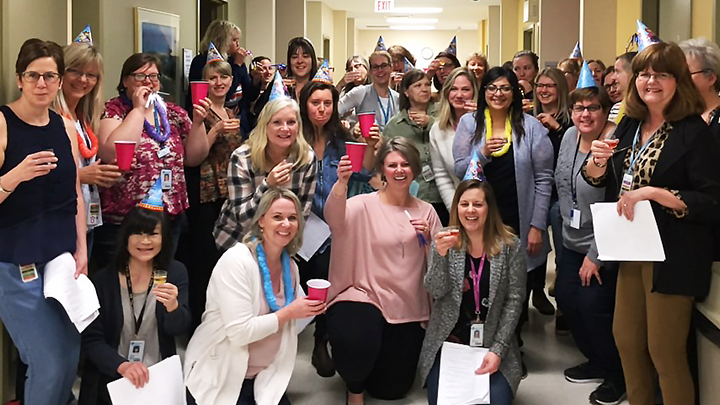 All AHS public health records now on same clinical information system
Story by Liesa Evans
CALGARY — Public health records from across Alberta Health Services (AHS) are now stored on the same clinical information system (CIS) following completion of the Calgary Zone's transition to Meditech last month.
Over the past two years, patient records and immunization information were migrated from the Calgary and Edmonton zones' previous systems to Meditech.
This involved:
Amending more than 500,000 patient records.
Electronically and manually converting 2.8 million patient records (1.6 million in Calgary, 1.2 million in Edmonton).
Transferring 31 million immunization records (17 million in Calgary, 14 million in Edmonton).
"It's exciting and extremely satisfying to see this collaboration between the clinical business and IT come to fruition," says Shelly Philley, Director, Public Health, Calgary Zone.
Public health, communicable disease control, travellers' health and community oral health are among the Calgary Zone teams now using Meditech.
With the Calgary Zone transition, public health operations in all five AHS zones are now using the same CIS with consistent assessment tools, reports, and clinical workflows.
Transitioning to Meditech enables consistent practices across public health and associated clinical programs in Alberta, improving the consistency of care for AHS patients and their families. It also provides staff with critical information from across AHS needed to evaluate decisions as well as improve provincial and national reporting.
"This is an exciting moment for AHS and for all Albertans," says Michael Cleghorn, Executive Director, IT Rural Clinical Services. "By unifying public health delivery provincially, we have established a new level of readiness for Connect Care. This project is helping AHS move closer to our goal of one patient, one record."
Adds Philley: "Perhaps the most successful aspect of this program is the amazing job done by the teams who showed an incredible dedication to this important, AHS-unifying work. We are thankful to everyone that stepped up to help answer questions, solve issues and provide their expertise."