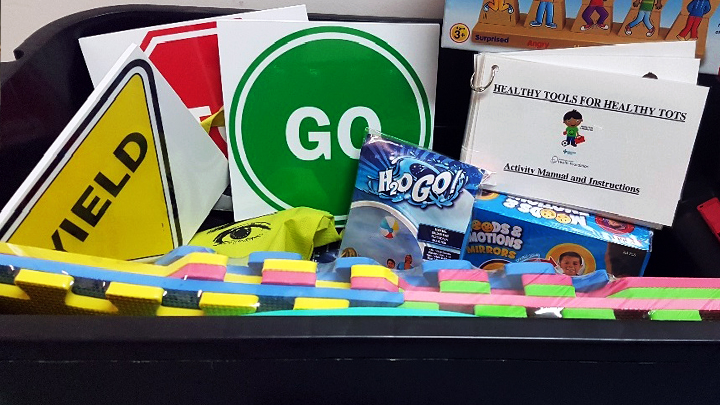 Fort McMurray's team effort praised by Alberta Rec and Parks Association
Story by Logan Clow
FORT McMURRAY — Alberta Health Services (AHS) staff with the North Zone Population and Public Health team and the Community Wellness team have been recognized as community and wellness champions in Alberta.
The Alberta Recreation and Parks Association presented them with the Providing Health Education award (+25,000 population) at the annual ChooseWell Community Awards on Oct. 25 in Jasper. The award acknowledges their efforts in promoting mindfulness, healthy eating and active living through education and resources.
"This award is given for providing health education and that's so meaningful to us. It's rewarding to do the work that we do. We're very humbled and honoured to receive the award," says Carolyn Evancio, a public health promotion facilitator with AHS Population and Public Health in Fort McMurray.
Over the last year, the AHS teams worked combined forces to create and distribute Healthy Tools for Healthy Tots tool kits across the Regional Municipality of Wood Buffalo.
"We recognized that many early-entry programs — childcare centres and day homes who all worked with young children — had lost resources, learning activities and teaching materials in the wildfire in Fort McMurray," says Evancio.
"In the fall of 2016, after we returned following the wildfire, we really wanted to do something to give back. We decided that the most effective way that we could assist was by creating an interactive and informative tool kit for caregivers in the region."
Staff also identified that children ages 5 and under are among the more vulnerable populations following a disaster.
"The wildfire was an emotional and stressful experience for everybody. Families lost their homes and possessions, and some families are still displaced," says Evancio. "We know that the stresses and emotions people can experience in a situation like this have the potential to be passed on to children.
"That's why it was so important to create these tool kits. We wanted to ensure children across the region were receiving consistent education about healthy eating, active living and positive well-being through fun and engaging activities."
The Northern Lights Health Foundation worked with the Red Cross to help pay for the tool kits, which were packed into large-wheeled totes, with a variety of healthy eating, active living and positive well-being resources, as well as learning activities such as activity mats and parachutes. Caregivers also received a laminated long-term use resource guide, teaching aids as well as additional resources on a USB stick.
To get their tool kits, caregivers were required to attend an education session. Staff distributed 49 tool kits to childcare centres, early-entry programs, Indigenous Head Start preschool programs and day homes in the region. "The tool kits were very well-received," adds Evancio. "The caregivers were very appreciative of our efforts. They're still using the tool kits on a daily basis, which is fantastic to hear."