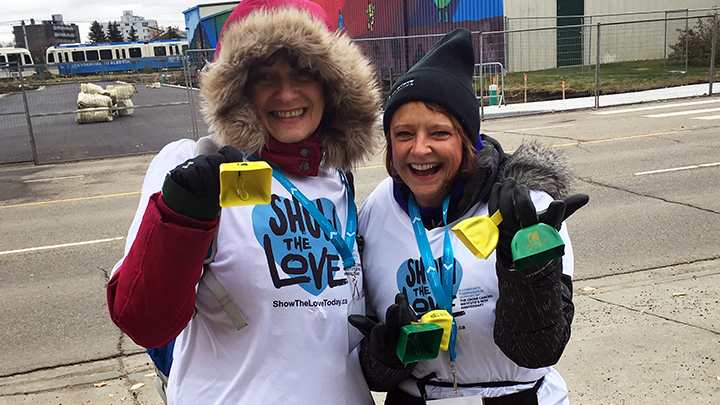 Footballers raise over $20,000 to show the love for Alberta Cancer Foundation
Story by Amelia Schofield
EDMONTON — The Esks Tackle Cancer football game raised more than $20,000 for Show the Love, a campaign celebrating the Cross Cancer Institute's 50th anniversary through support for the Alberta Cancer Foundation.
In addition to supporting cancer research, prevention, treatment and care, the Oct. 13 game — hosted by the Edmonton Eskimos — also paid tribute to the many Albertans who have survived cancer, and more specifically, those who received care at the Cross Cancer Institute (CCI).
To honour these individuals, more than 50 cancer survivors and their families joined together in "ringing the bell" on the 55-yard line during halftime.
A long-held tradition at the CCI, patients are invited to "ring a bell" once they finish their treatment. The ringing of the bell is a celebration to commemorate these individuals for the journey they've just experienced.
Susan Mortensen and Ashley Ayume, therapists in radiation oncology at the CCI, are credited with starting the tradition about eight years ago. Both had the opportunity to attend Esks Tackle Cancer and spend time with survivors who rang the bell at the game.
"My colleague Ashley Ayume and I started the Bell of Hope initiative about eight years ago in our department. We read an article about it happening in the States, and we thought 'why not do this ourselves?'" says Mortensen.
After bringing a cowbell in from home, Mortensen and Ayume placed the bell on a table along with a plaque, which is engraved:
Ring Out
Ring this bell
Three times well
Its toll to clearly say,
My treatment's done
This course is run
And I am on my way
Almost immediately, patients across the facility looked forward to the day they could ring the bell to mark a milestone in their healthcare journey.
"It's amazing how it really took off, and now we have patients who make a point to bring in cowbells and have them inscribed or engraved, so we use those as well too," says Mortensen. "To think how such a simple idea, eight years ago, has empowered so many people is truly remarkable."
In addition to Mortensen and Ayume's involvement, several other CCI staff volunteered their time at the game to sell cowbells to attendees. Thousands were sold, with proceeds donated to the Alberta Cancer Foundation.
"This was an incredible event, from the support of the Edmonton Eskimos, to the Cross Cancer Institute staff volunteering their time in the bitter cold to sell bells for us," says George Andrews, President and CEO of the Alberta Cancer Foundation.
"Since we invited cancer survivors and their families to ring the bell at halftime, we've heard from so many more who didn't get a chance to ring their bell after their own cancer treatment, for whatever reason — and it's become very moving to give them an opportunity to ring it at other events. We feel honoured to be part of that important milestone." Paula Germann, site director of the CCI, also volunteered her time at the game and share her team's gratitude to the Alberta Cancer Foundation for its longstanding support.
"We are very fortunate to have the foundation. They work really hard each and every day and give so much of themselves to support our patients and healthcare teams. We're incredibly thankful to them and grateful for the support they provide."
For more information on how to support Alberta Cancer Foundation and the Show the Love campaign, please visit albertacancer.ca.
Visit AHS.ca/give for a full list of Alberta's health foundations.