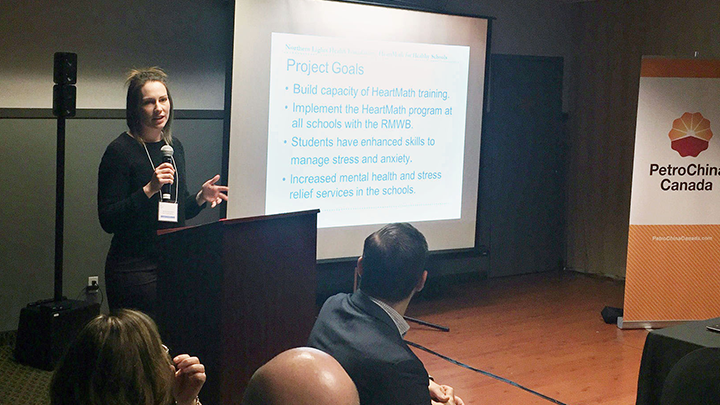 Story by Logan Clow
FORT McMURRAY — Students in the Regional Municipality of Wood Buffalo now have even more access to mental health education and resources through Alberta Health Services, thanks to a generous donation from the Northern Lights Health Foundation (NLHF).
The donation is being put to good use by local AHS addiction and mental health staff to launch HeartMath for Healthy Schools. In all, 34 schools within the Fort McMurray Catholic School Division, Fort McMurray Public School Division and Northlands School Division — encompassing the region from Conklin to Fort Chipewyan — will receive HeartMath materials.
"HeartMath uses mental health and stress-release tools and techniques to help reduce anxiety and promote student learning and success," says Allison Power, recovery manager, Fort McMurray Wildfire Recovery Program, AHS addiction and mental health.

"By using HeartMath, local elementary, middle and high school students, as well as educators, will have enhanced and appropriate coping skills to deal with stress. We're so grateful and thankful for the foundation's support with this initiative. HeartMath will really make a positive difference in the Regional Municipality of Wood Buffalo."
The region is one of the only areas in Canada offering in-school HeartMath programming. HeartMath is used in more than 1,000 schools in North America and Great Britain. The three local school divisions will determine how and when the programming will roll out.
"Launching HeartMath in schools across the region is the result of an extensive two-year collaboration effort between the foundation, local school divisions, AHS and multiple community partners, such as ConocoPhillips Canada, Cenovus Energy Inc., PetroChina Canada and the Canadian Red Cross," says Cindy Amerongen, NLHF executive director.
"The foundation is very excited to support this project and our region. We thank these community partners for their support."
HeartMath began in 1991 and was first introduced to AHS in 2008. In 2013, it was one of the first programs offered to the communities and families to help deal with the stress caused by flooding in southern Alberta.
Power says HeartMath will provide beneficial coping skills for community members affected by the stress of the 2016 Fort McMurray wildfire.
"Recovery takes time. We know that wildfire disasters are associated with a negative impact on the mental and physical health of those affected and those effects can be delayed in onset and can persist over several years," she says.
"The best place to deliver programs such as HeartMath to children, youth and their families is within the educational setting. Healthy schools are an integral part of a healthy community; when health and well-being become the focus of any initiative, both mental health and physical health can improve for everyone."
In the AHS healthcare setting, HeartMath is used for wellness and recovery following stroke, heart attack, addictions and stress.

HeartMath's philosophy recognizes the direct link between emotions, brain function and heart rhythms which can be measured and displayed by electronic devices.
Stress or anxiety can cause negative emotions that change and increase the heart rate. HeartMath uses technology to measure, monitor and display a user's heart-rate variability patterns — the variation in the time interval between heartbeats.
The goal in displaying the heart rate variability patterns is to show where the heart rate speeds up when breathing in and slows while breathing out. By learning to control the heart rate through breathing techniques and viewing the change, students learn how to best manage their stress.
"In a stressful situation, breathing techniques can be quite helpful and calming," adds Power.
A number of local AHS staff and school division representatives have also completed HeartMath facilitation training.