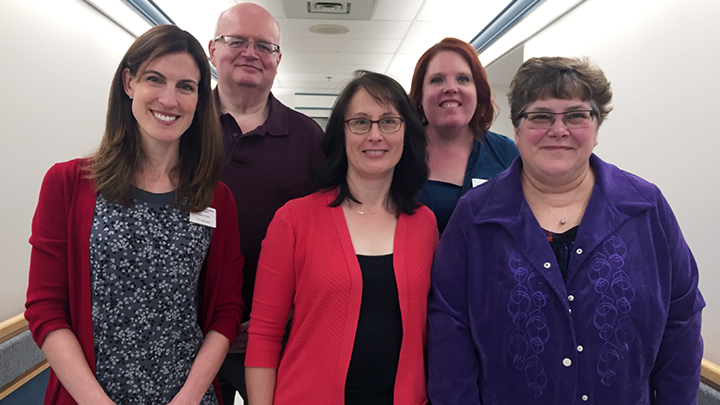 Hospital team embraces fresh strategies to improve flow and transparency
Story & photo by Vanessa Gomez
EDMONTON — The Glenrose Rehabilitation Hospital is embracing new strategies to become a more patient- and family-centred facility.
Following focus groups with staff, patients and families, an improvement team was brought in to suggest ways to bolster transparency and accessibility to improve patient flow. The team, comprised of staff and former patients, hope to create a more fluid transition from the time patients enter the Glenrose to the time they leave.
"After the focus groups, we were surprised to find the things they were asking for were so simple," says Alyson Kwok, a member of the improvement team. "Clearer communication, trusting and respectful relationships and consistent messaging are relatively easy to put in place."
The most important resource for the team has been having a patient perspective to guide their decisions. To this end, former Glenrose patients have taken on roles such as patient representative and family care advisor.
One of the tactics the team has coordinated is the role of the "rehab navigator" — a term coined by patient representatives on the team. Staff who have exclusively worked in intake have had their positions modified to include discharge, thus creating a more fluid process for patients. The navigators will represent the sole contact for inpatients until they transition out of the Glenrose's care.
"So many patients are looking for a point of contact to help them navigate the system," says Mareika Purdon, manager of patient transitions. "We love the term 'navigator'. Everybody has a different journey and it's important to recognize how you help them."
The Glenrose has also simplified its referral processes. It's aiming to publicize the criteria for programs, providing easier access and more transparency to services.
"People at other sites were having troubles on how they could get their patients to the Glenrose," says Purdon. "With one, standard referral form and publicized criteria, the Glenrose will be more accessible and patients and healthcare providers will get the information they need."
"The work at the Glenrose is very rewarding. Our work is truly inspired by the recommendations we receive from our patients & their families. The fact that the majority of the recommendations are in the implementation phase now validates that stopping and listening to patients and their families informs the right work."