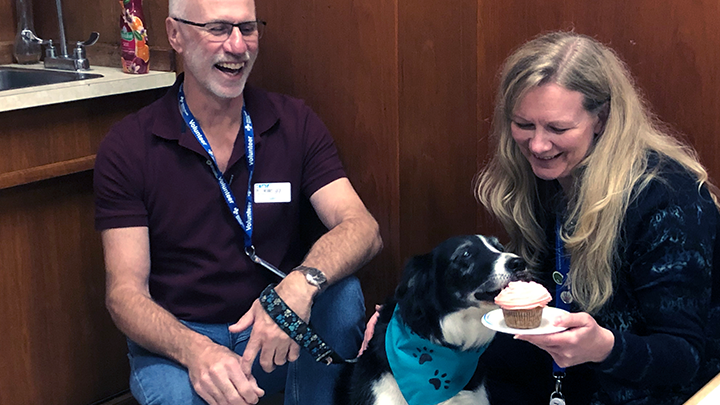 Sweet hound set to retire after happy years of helping staff and patients
Story & photo by Vanessa Gomez
EDMONTON — Misha the border collie is calling it a day after three years of putting smiles on the faces of more than 4,000 patients and staff at the Royal Alexandra Hospital (RAH).
She and owner Glenn Gross have been part of the Northern Alberta Pet Therapy Society for four years, during which time they often dropped by to help folks in hospital feel a little better about their circumstances.
"We see a lot of people who are not all that happy to be in a hospital situation," says Gross. "But when we bring Misha into the room, their face just lights up."
Gross found out Misha was a natural at pet therapy, purely by accident, when he took her to visit his mother in a nursing home.
"Within a week of having Misha, she just had this really easygoing way with people. I would take her to visit my mom and other patients and staff at the nursing home, before she became a therapy dog," adds Gross. "She needed no introduction to this kind of work."
Misha's friendly ways have made a difference, says Gross, in recalling a young man who had difficulties opening up to his recreation therapist.
"We weren't even sure if he liked dogs, but the therapist wanted to see if Misha could help," says Gross. "It took a couple of minutes, but when he noticed Misha, he sat up in his bed and beckoned her to come over. When he started petting her, he was smiling and most importantly, talking. Misha just managed to crack open a door in this man's defences."
Not only have patients benefitted from Misha's visit, but the staff at the RAH have a soft spot for the healthcare canine as well.
"She's a big morale booster on the units. Most staff know her by name — and she's quite happy to be left alone at the nurses' station, being spoiled with treats."
During their time together, Gross says Misha has taught him a thing or two about how to bring comfort to those they meet.
"I think I've learned to become a better listener," he says. "Just talking to patients and staff, reading body language and cues — my bedside manner has improved."
While Gross reluctantly admits that Misha's retirement may leave a few sad at the RAH, he's fond of the memories they created and looks forward to coming back to the RAH as a solo volunteer.
"This experience has been amazing. When we leave here, we know we've made a difference."