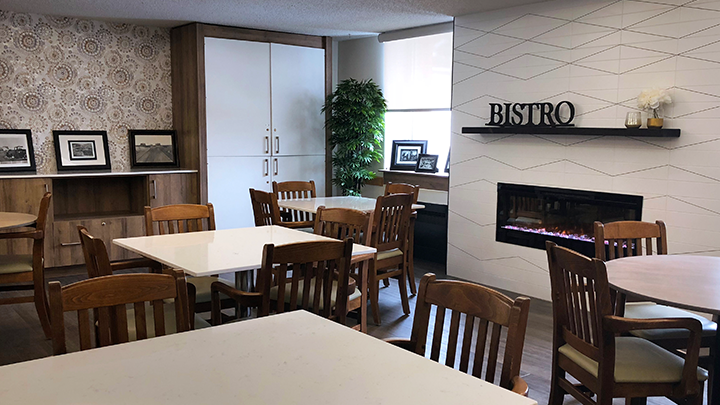 Speakers highlight care of troubled youth, Ambition 2023 improvements
Story & photo by Vanessa Gomez
Alberta Hospital Edmonton (AHE) is setting an ambitious future for its patients and families. The site is undergoing a five-year renewal plan called Ambition 2023 in which they are adapting and innovating to further meet the ever-changing and complex needs of individuals and families.
AHE recently recognized World Mental Health Day to promote education and awareness and mobilize efforts in support of mental health.
This year's theme — Mental Health and Young People in the Changing World — saw psychiatrists, a former patient and family advocate speak on the issues youth experience and the struggles families face to find help for their loved ones.
"Right now, we know society is changing at a great speed," says psychiatrist Dr. Daniel Li. "But what hasn't changed is the absolute need for mental health services for youth."
Psychiatrist Dr. Isfandyer Khan also emphasized the importance of early intervention to help vulnerable youth.
"This is a time of psychological and physiological transition," adds Dr. Khan. "How can we intervene? What can we do to smoothen this transition?"
One of the most important things for youth is being able to find appropriate programs and treatments. The Young Adult unit at AHE and Access Open Minds program in downtown Edmonton cater to inpatients and outpatients, respectively, and allow youths to receive treatments that best suit their schedules and needs.
"When youth come into the hospital, they are surrounded immediately in their own peer environment," adds Dr. Li. "There's an immediate sense of safety, peer support and youth engagement in the culture."
The Oct. 10 event also recognized the Canadian Home Builders' Association – Edmonton Region (CHBA) for the work they did to revamp two common areas at AHE. After a member of the renovator committee had a family member admitted to AHE, the CHBA recognized the need to create more welcoming and engaging spaces for patients and families to enjoy — and worked closely with Alberta Health Services to get the project started.
Their first renovation was the Bistro, a cafe operated by patients, which received new fixtures, furniture and a warmer colour palette to help it provide more training opportunities in customer service and food prep. The second was the outdoor courtyard, where revitalized landscaping will be able to offer plant therapy and a place to experiment with art and graffiti. The two-day project brought together more than 50 volunteers from the association as well as 30 student volunteers and sponsors.
"These surroundings are much nicer for our patients and will have a huge impact on them," says Dr. Patrick White, Site Medical Director of AHE. "The renovations are just the beginning of the many changes taking place here at Alberta Hospital."
With a new day hospital opening soon and the revitalization of spaces, Ambition 2023 is off to a productive start — and AHE is committed to further development of its ongoing community service.