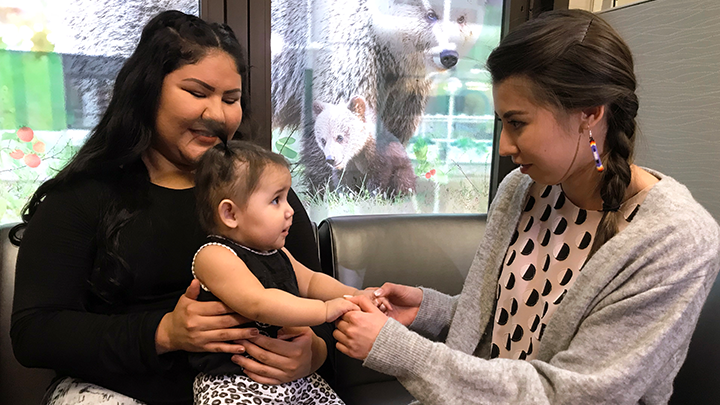 Awasisak Indigenous Health Program provides cultural support for Stollery families
Story & photo by Sharman Hnatiuk
EDMONTON — Being greeted by an Indigenous child and family engagement coordinator upon her arrival at Stollery Children's Hospital helped Darla Lapatak feel right at home.
Lapatak, who hails from the Saddle Lake Cree Nation northeast of Edmonton, delivered her twins Dashton and Darlynn on March 15 at the Royal Alexandra Hospital (RAH). However, her son Dashton immediately required assistance breathing, and spent six weeks in the Stollery's neonatal intensive care unit at the RAH.
Afterwards, he was transferred to the Stollery on the U of A Hospital campus where Lapatak and her family were introduced to the Awasisak Indigenous Health Program. (The word 'awasisak' means 'children' in Cree.)
"Dashton has never been home to Saddle Lake, and being away from my family and community has been challenging," says Lapatak.
"The team from the Awasisak program have been incredible during our journey at the Stollery. I feel comfortable with other indigenous people — and they have helped connect my family with resources to relocate to Edmonton, attend meetings with the care team, and help us start transitioning for Dashton's discharge to another care facility in the city."
Since 2016, the Stollery's Awasisak Indigenous Health Program has been working with Elders, staff and physicians — as well as communities throughout central and northern Alberta — to enhance a culturally-safe and patient/family-centred perspective on service delivery at the hospital.
"To date, our program's six staff have served more than 200 patients and their families, representing 54 communities," says Sherri Di Lallo, Indigenous Team lead. "The goal is to build bridges for Indigenous children's health by improving health status, health outcomes and health-related services for infants, children and youth who require neonatal and pediatric care, or outreach care."
Talking Circles were held in 2017 and 2018 in six communities with members of Treaties 6, 8 and Metis communities as well as health professionals in these regions. The sessions identified various challenges Indigenous children and their families experience, from accessing care to returning home.
This led to the addition of an Indigenous registered nurse case manager to communicate strategies between Stollery teams and community teams to provide the best discharge plans for children and families as they head back home.
The Awasisak program also provides cultural awareness sessions for staff, residents and physicians at the Stollery, cultural healing for patients and families through smudging ceremonies, as well as drumming ceremonies four times a year at the hospital.
"We believe that one of the best ways to introduce culture into the hospital setting is through engagement and experiential learning such as blanket exercises, ceremonies and art," says Di Lallo.
"Through the development of this program over the last two years, the Stollery has become a leader in integrating ceremonial services for indigenous children, families and staff from a national and international perspective."